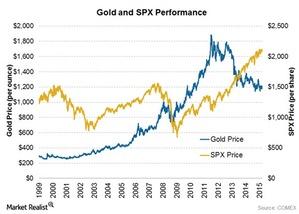 Gold Investments and Their Governing Economic Principles
By Meera Shawn

Updated
Gold for risk-averse investors
Gold is well known as a safe-haven investment, and many risk-averse investors seek safety in gold bullion. Physical gold is used as a hedge against financial stress. Economic instability, political unrest, and extreme inflationary and deflationary fears have historically caused investors to resort to gold investments.
Of the major precious metals—gold, silver, platinum, and palladium—gold is the most favored. The chart below shows historical gold prices from 1999–2015, along with the performance of the S&P 500 index. Gold demand rises in times of economic uncertainty, typically signified by a downward slide in financial assets such as the S&P 500.
Article continues below advertisement
How economic principles relate to gold
Productivity growth refers to the ability of the producers to add more benefits to their products, so they can earn better returns on the product or service offered. Although productivity is not influential in the short run, increasing productivity in the long run can be beneficial for the economy. An improving economy and a rise in asset prices can result in a downturn in gold prices.
Debt cycles
Short-term and long-term debt cycles inform the amount of credit that flows into the economy. When credit is more readily available, investors generally prefer buying financial assets, real estate, and investing in businesses. However, a downturn in the amount of debt available reduces the amount of money flowing into these assets, causing prices to drop. Decreasing prices of other investments can cause gold prices to rise, as gold is seen as a low-risk asset that is buoyed when other investments are falling.
Gold prices have a significant impact on gold mining stocks like Newmont Mining Corp. (NEM), Barrick Gold Corp. (ABX), Agnico Eagle Mines (AEM), and Royal Gold Inc. (RGLD). NEM, ABX, AEM, and RGLD together account for ~22% of the VanEck Vectors Gold Miners ETF (GDX). Exchange-traded fund investments like the SPDR Gold Trust ETF (GLD) have prices that are directly correlated with those of gold prices.