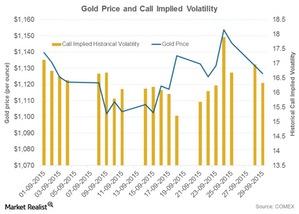 Could Gold Demand from China Soar?
By Meera Shawn

Updated
Gold reserves rising
According to data published by the IMF (International Monetary Fund), central banks in Russia, Kazakhstan, and Belarus boosted their gold reserves. China, which accounts for roughly a quarter of global gold demand, is waiting for the seasonal demands in the country to pick up, which may boost gold prices.
Gold December delivery has gained 0.63% on a 30-day trailing basis as of September 28. It has a five-day trailing return of 0.12%. Gold's trading price as of September 28 was $1,131 per ounce. The current implied volatility, which is measure derived from the metal's options, has also been on the rise. It measures the rate of changes expected at the price of the metal. The current implied volatility of 17.91 is above the average ten-day volatility of $16.16. The below chart helps us understand the relationship of gold prices with that of its call implied volatility. There is clear evidence of a downfall in volatility during the FOMC (Federal Open Market Committee) policy setting meeting, as investors kept away from extreme positions.
Article continues below advertisement
Rise in Chinese demand
Currently, China has an upcoming week that we can call "golden week." The week is so called because the demand for gold is on a rise until the New Year Festival in early February, so more longs are active in the market. China boosted its imports from Hong Kong last month due to the devaluation of the nation's currency and inventory-building before the peak consumption season backed buying.
Other precious metals, ETFs, and mining stocks
Other precious metals like silver, platinum, and palladium have seen a decline in their trading prices on Monday, September 28. These precious metals were trading at a price of $14.53, $922.5, and $651.85, respectively. ETF investments that have declined on a 30-day trailing basis include the VanEck Vectors Gold Miners ETF (GDX) and the iShares MSCI Global Gold MIN (RING). These have decreased by 6.53% and 7.9%, respectively.
Mining stocks that have seen positive returns on a 30-day trailing basis include Alamos Gold (AGI), Sibanye Gold (SBGL), Centerra Gold (CG), and IamGold (IAG). These stocks together make up 5.52% of the GDX indicator.