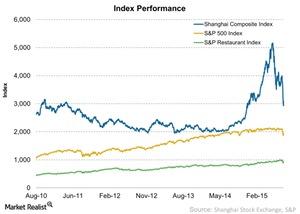 What the Global Stock Market Turmoil Means for Restaurant Stocks
By Adam Jones

Updated
Recent turmoil
If you're an investor in the stock market, you may have been in the middle of the recent global meltdown. Over the last 15 days, the S&P 500 Index fell 5%. This erased its YTD (year-to-date) gains. The Consumer Discretionary Select Sector SPDR (XLY) also fell 2.95%. Some of the best-performing restaurants fell even harder. Starbucks (SBUX) and Panera Bread (PNRA) fell 1.30% and 8.60%, respectively. Domino's (DPZ) fell 3.10%. Shake Shack (SHAK) was hit the worst. It fell 22% over the same period. Yum! Brands and Starbucks account for 8% of XLY's portfolio.
Article continues below advertisement
What started this?
It all started with growth concerns in China. China devalued its currency two weeks ago. The PBOC (People's Bank of China) stated that it wants to align the yuan more with the markets. However, many analysts believe that this move was taken to spur its ailing export growth. Exports fell 8.30% in July—compared to 8.10% a year ago.
Devaluation usually weakens the currency and makes it cheaper to import from the Chinese manufacturer. This can lead to other countries devaluing their currencies. In short, it can lead to a currency war. Devaluation of the currency would benefit China, but it sparked a bigger concern among the investment community that China is slowing down more than they expected.
Adding to the woes, the Caixin Flash China General Manufacturing PMI (purchasing managers' index)—the preliminary gauge to Chinese manufacturing data—fell to a fresh 6.5-year low of 47.1. A number below 50 indicates that the manufacturing activity is contracting and vice versa. Slower growth impacts consumption. As a result, it affects businesses.
What does it mean for restaurants?
For several companies listed on the US stock markets, China has been their trump card for growth. For example, Yum! Brands (YUM) earns the majority of its revenue from China. It has been very sensitive to that market. Starbucks is adding units faster in China than in any other region. The growth concerns may affect these stocks even though they're US entities. So, in these times of turmoil, how are US restaurant stocks impacted? Continue reading to learn more.