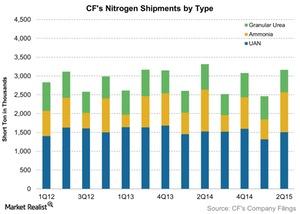 How Global Producers Are Impacting CF Industries's Shipments
By Adam Jones

Updated
Shipments decline
Overall shipments for nitrogen products declined during 2Q15. Nitrogen fertilizers require application each planting season, unlike potash and phosphate fertilizers, which are not applied as frequently. For this reason, nitrogen fertilizer demand remains relatively stable compared to that of potash and phosphate.
Article continues below advertisement
Why shipments declined
CF Industries earns about 84% of its revenue from the United States, so it remains highly sensitive to US conditions.
Ammonia shipments declined to 1.06 million short tons (1 short ton equals 2,000 pounds) from 1.10 million short tons.
Ammonia shipments declined due to unfavorable wet conditions in the eastern Corn Belt in the United States, which delayed the ammonia application. This also means orders may pick up in the second half of 2015.
Granular urea shipments fell to 0.60 million short tons from 0.68 million short tons, and UAN shipments fell to 1.50 million short tons from 1.52 million short tons.
According to CF Industries, the drop in urea shipments was because of lower supply availability as a result of maintenance activities.
The company also faced challenges in its export market, Brazil, which faced headwinds due to its weaker currency against the dollar.
This was echoed by Mosaic's (MOS) and PotashCorp's (POT) management, as well. VanEck Vectors Agribusiness ETF (MOO) maintains 3.7% of its holdings in CF industries.
There is also pressure coming from other suppliers that have hit the global nitrogen fertilizer market with excess supply.
The United States remains a net importer of nitrogenous fertilizers in 2015, with ~25% of the nitrogen demand fulfilled from imports, according to the company.
This means that CF, which is a low-cost producer based in the United States, has the potential to capture the market. This may also explain why the company is adding capacity.
During the earnings call, the company stated that it is running its current plants "365, 24/7 as hard as we possibly can."
Because the United States remains a net importer of nitrogenous fertilizers, producers such as CF Industries may benefit from adding more capacity.
With the latest OCI acquisition, CF will have additional urea, UAN, and ammonia capacity scheduled to come online in 2016.
Let's turn our attention to costs. The most critical cost for nitrogen fertilizer producers such as CF, PotashCorp (POT), Terra Nitrogen (TNH), and CVR Partners (UAN) is natural gas. We will cover this in the next part of the series.