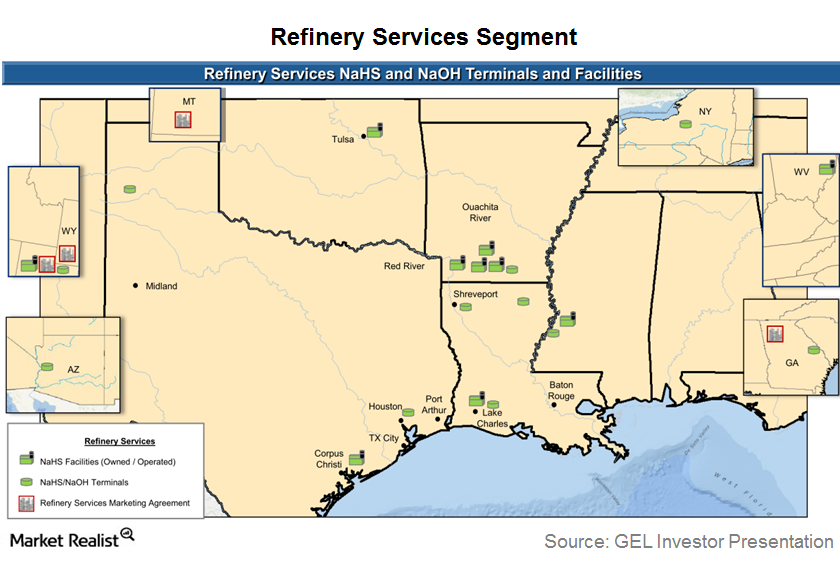 Genesis Energy's Refinery Services Have High Commodity Exposure
Genesis Energy's Refinery Services segment
Genesis Energy's (GEL) Refinery Services segment provides sulfur extraction services to refiners and sells NaOH (sodium hydroxide, or caustic soda) and NaHS (sodium hydrosulfide) to large industrial and commercial companies involved in mining operations, the specialty chemical business, and the pulp and paper industry. NaOH is the primary raw material used in the process, while NaHS is produced as a residue.
Article continues below advertisement
Phillips 66 (PSX), HollyFrontier Corporation (HFC), and Ergon are among the refiners that provide NaHS to Genesis Energy. Phillips 66 and HollyFrontier are general partners of Phillips 66 Partners (PSXP) and Holly Energy Partners (HEP), respectively. Martin Midstream Partners (MMLP) is the other midstream MLP that processes and distributes sulfur-related products.
Together, Phillips 66 Partners and Genesis Energy account for 4.1% of the Global X MLP ETF (MLPA).
Genesis Energy's NaHS and NaOH terminals and facilities
Genesis Energy's Refinery Services NaHS and NaOH terminals and facilities include owned and leased NaHS and NaOH terminals in the Midwest, the Gulf Coast, Montana, Utah, British Columbia, and South America. The segment also leases ~300 railcars and six chemical barges for the movement of these chemicals.
Segment value drivers
The Refinery Services segment's performance is directly linked to the volume and price of NaOH or NaHS sold, and the sour (or sulfur) gas processing cost. According to an investor presentation, "~60% of NaHS sales contracts [are] indexed to NaOH prices," while the "remaining 40% have short-term mechanism to change pricing in response to changes in operating costs."
According to ICIS (Independent Chemical Information Service), "Caustic soda prices are expected to remain stable in the US, Asia and Latin America on the back of ample supply." Plus, "Export business is likely to continue at recent high volumes of 200,000-250,000 dry metric tonnes (dmt)/month with US spot exports prices hovering near a five-year low. Domestic contract prices are also expected by market players to lower incrementally until October."