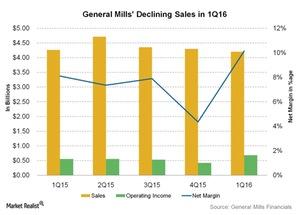 General Mills 1Q16 Performance: Further Breakdowns
By Sushree Mohanty

Updated
1Q16 highlights
General Mills' (GIS) net sales for its latest 13-week quarter ending August 30, 2015, declined by 1% to $4.21 billion. The reason for this decline was due to foreign currency exchange net sales, which grew by 5 percentage points. On a constant-currency basis, net sales grew by 4%, including two points of growth. The company's acquisition of Annie's Homegrown in October 2014 contributed to this growth.
Article continues below advertisement
General Mills' pound volume was 2% above year-ago levels as well. The company's net price realization and mix contributed 2 percentage points of net sales growth. Its adjusted gross margin increased by 290 basis points due to improved net price realization and savings from the company's cost-reduction initiatives. This figure excludes mark-to-market effects and certain other items affecting comparability.
The company's SG&A (selling, general, and administrative) expenses declined by 6%. Savings from Project Catalyst and a 5% decrease in advertising and media expense drove this decline in the company's SG&A expenses.
Operating profit and EPS
General Mills' total segment operating profits rose by 20% to $826 million. On a constant-currency basis, its total segment operating profit increased by 23%. The company posted restructuring and project-related charges totaling $95 million, pretax, in 1Q16, including $35 million recorded in the cost of sales. Net earnings attributable to General Mills totaled $427 million. Diluted EPS (earnings per share) totaled $0.69.
Article continues below advertisement
The company's adjusted diluted EPS, which excludes certain items that affect comparability, totaled $0.79, compared to $0.61 a year ago. On a constant-currency basis, its 1Q16 adjusted diluted EPS increased by 36%. Its combined, after-tax earnings from the Cereal Partners Worldwide (CPW) and Haagen-Dazs Japan (HDJ) joint ventures totaled $26 million.
These results essentially matched year-ago results. The company's constant-currency, after-tax earnings from joint ventures grew by 16%. The constant-currency net sales rose by 9% for HDJ and were down by 2% for CPW.