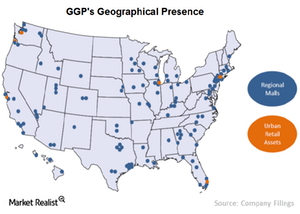 General Growth Properties' Key Business Segments
By Peter Barnes

Updated
Business portfolios
General Growth Properties (GGP) focuses exclusively on owning, managing, leasing, and redeveloping high-quality retail properties throughout the United States. The company's property portfolio consists predominantly of Class A regional malls (as defined by sales per square foot) and urban retail properties.
In fiscal 2014, GGP owned, either directly or with joint venture partners, 128 retail properties located in 47 states of US comprising approximately 127 million square feet of GLA (gross leasable area). The company's high-quality malls comprise approximately 20% of the 450 high-quality malls in the US. Target markets for urban retail properties include New York City, Chicago, Miami, Boston, Washington, D.C., San Francisco, and Los Angeles.
Article continues below advertisement
GGP, the second-largest retail REIT company in the US, has centers in 37 of the top 50 metro areas in the country. More than half of the company's portfolio is located in these markets, including 32 properties in the top 10 US markets. GGP owns the largest open-air shopping mall in the world, Ala Moana Center in Honolulu, Hawaii. Ala Moana Center is also a flagship of GGP's tourism program called "America's Premier Shopping Places."
Portfolio concentration
It's quite apparent from the map above that GGP has one of the most diverse portfolios in the retail REITs segment. Simon Property Group (SPG) has heavy asset concentration on the East Coast and the Central region of the US, while Macerich Company (MAC) has a significant presence on the Pacific Rim, as well as in Arizona, Chicago, and the corridor between Metro NYC and DC. On the other hand, CBL & Associates Properties (CBL) has a presence in 30 states in the US, predominantly on the East Coast and Central region of the US.
GGP makes up 2.93% of the holdings of the Schwab U.S. REIT ETF (SCHH).
In the next part of the series, we'll discuss GGP's top tenants.