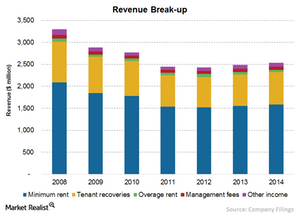 General Growth Properties' Decent Revenue Growth in 2013 and 2014
By Peter Barnes

Updated
Sources of revenue
General Growth Properties (GGP) generates revenues primarily from tenant leases, which include:
base minimum rents
overage and percentage rents based on tenants' sales volumes
recoverable expenditures, such as property operating, real estate taxes, repair and maintenance, and advertising and promotional expenditures
GGP's revenues consist primarily of management fees, which are based on the revenues of the property being managed.
Article continues below advertisement
Higher tenant sales boosted revenue
In fiscal 2014, GGP reported a consolidated revenue of $2.53 billion—up by a mere 2% from 2013. In 2013, revenue grew by 2.5% over 2012. The positive revenue growth in 2013 and 2014 came on the heels of consecutive declines in revenues since 2008. In 2009 and 2010, fore example, GGP's revenues declined by 12.6% and 3.8%, respectively. So overall, GGP still has a long way to go to reach its peak revenue of $3.3 billion, which it recorded in 2008.
GGP's revenue growth in 2014 was lower than that of its close competitors like Simon Property Growth (SPG), which had a revenue growth of 7.2% in 2014, and Macerich Company (MAC), which had 7.4% in 2014. But GGP's revenue growth in 2014 was higher than that of CBL & Associates Properties (CBL), which reported a revenue growth of 0.7%.
GGP makes up 4.20% of the holdings of the iShares Cohen & Steers REIT ETF (ICF).
Article continues below advertisement
Revenue growth drivers
GGP's revenue growth in 2014 was primarily driven by higher tenant sales and a rise in leasing space. In 2014, the total lease space was 97.2%, representing an increase of 0.1% over 2013. The company's occupancy rate was 92.3% in 2014, 0.3% higher than in 2013, which also helped boost revenue.
Revenue contributions
In 2014, GGP's revenue from minimum rent made up $1.58 billion, or 62.5% of its total annual revenue. The share of minimum rent remained in the range of 62–64% of total revenue over the past seven years.
GGP's tenant reimbursement made up 29.2% of the company's total revenue—$0.74 billion in 2014—while overage rent made up 2% of its total revenue in 2014, at $52 million.
In the part of this series, we'll break down GGP's cost structure.