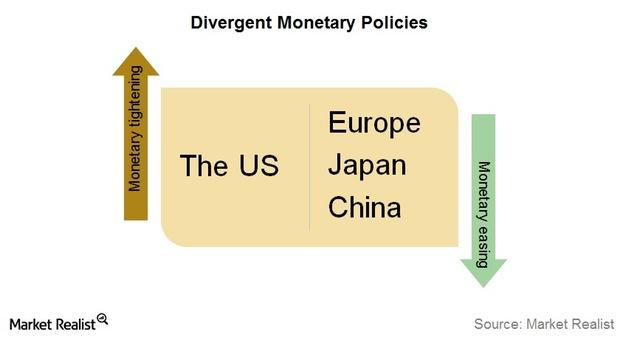 G20 Summit: Divergent Monetary Policies in a Divergent World?
Monetary policies
Monetary policies have played a key role in helping economies around the world bounce back from the Great Recession of 2007. The monetary policy tools used have been praised, criticized, and scrutinized since their first application.
Some economies, notably the US, seem to be in a position where this monetary policy support can start to be withdrawn. However, there are several other economies—like the Eurozone, Japan, and even China—that would need more support for months or even years to come.
Article continues below advertisement
The divergence in monetary policies is giving rise to problems of its own. It has a direct impact on currencies. The local unit of the country, that may be about to effect monetary policy tightening, generally strengthens against its peers and vice versa. This has a negative impact on the country's exports because its goods become expensive in the international market. In the US, exporters like ExxonMobil (XOM), Honeywell International (HON), Colgate-Palmolive (CL), and Oracle (ORCL) have seen a hit in their revenue due to a strong dollar as the nation moves towards its first rate hike after the recession.
Discussion at the G20 Summit
G20 leaders recognized this divergence in monetary policies and pledged to communicate their policy decisions clearly in order "to minimize negative spillovers, mitigate uncertainty and promote transparency." They recognized the need for monetary policy tightening in some advanced economies.
Article continues below advertisement
What the IMF staff thinks
The IMF (International Monetary Fund) staff had a broader take on this. In their "Global Prospects and Policy Challenges" report, the staff stated that "Accommodative monetary policies remain essential in many advanced economies, given still sizable output gaps." An output gap is the difference between potential and actual output of an economy.
The agency's staff maintains that inflation in several advanced economies is below target. Also, the expected rise in spending due to a fall in crude oil prices (USO) hasn't happened. As a result, an accommodative monetary policy is warranted to keep real interest rates low for the time being.
For the US (TLT), the staff emphasizes clear communication as the country heads towards policy normalization. For the Eurozone (EZU), the staff noted a fall in inflation expectations and a strengthening in the euro. Both of these could warrant an extension of the stimulus program. For Japan, the staff observed that the Bank of Japan should be ready to provide more stimulus in the face of subdued inflation.
In the next part, we'll discuss the third area that the G20 leaders focused on—foreign exchange.