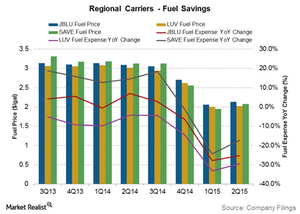 Comp: SAVE's Fuel Hedging Is Higher than Peers
By Ally Schmidt

Sep. 24 2015, Updated 10:10 a.m. ET
Airlines see blockbuster growth in profits
As discussed in the above article, regional carriers were able to record strong performance in their bottom lines. This was made possible due to a slump in oil prices. Southwest Airlines (LUV) was the biggest beneficiary with its fuel expenses dropping by 29.5% year-over-year (or YoY) in 2Q15, while JetBlue (JBLU) saw a 25% YoY fall in its aircraft fuel related expenses. Spirit Airlines' (SAVE) fuel expense fell by a mere 17%.
Article continues below advertisement
As can be seen from the chart above, LUV has consistently been the biggest winner as a result of the drop in fuel prices with JBLU coming in a close second. For 2Q15, LUV's fuel price was at $2.02 per gallon, while SAVE was at $2.08 per gallon, and JBLU was at $2.13 per gallon. Fuel prices have fallen by 33.5% for SAVE as compared to 2Q14, 33% for LUV, and 31% for JBLU.
Investors can get exposure to airlines by investing in the iShares Transportation Average ETF (IYT), which invests ~16.85% of its holdings in airline stock.
Fuel hedging strategies limit gains
This difference in fuel gains can be explained by the different hedging strategies followed by the three regional carriers. While Southwest hedges only about 20% of its fuel expense, JBLU hedges about 21% of its fuel expense. Southwest Airlines has been the pioneer in using strategic hedging techniques to counter oil market volatility. The company uses a combination of call options, collars, and fixed price swap agreements to hedge its jet fuel exposure. This enabled the company to enjoy actual fuel costs that were in-line or below the average jet fuel spot prices in the past when fuel prices were rising.
JetBlue uses swap agreement and crude oil option contracts to hedge fuel consumption. It also outsources its fuel management services. On the other hand, Spirit Airlines, only hedges fuel prices by buying out of the money calls or call options to hedge the risk of rising oil. However, SAVE hedges almost 30% of its fuel expense, which explains the lower gains as compared to LUV and JBLU. However, both LUV and JBLU too have had to face some losses due to their fuel hedging strategies in contrast to legacy carrier American Airlines, which hasn't hedged any of its fuel costs since 2013. American plans to continue its no-hedge policy going forward.
Good times like these have meant unwatched expansion often by using debt, which leads to financial trouble when the tide turns. Let's take a look at these airlines' financial condition in our next article.