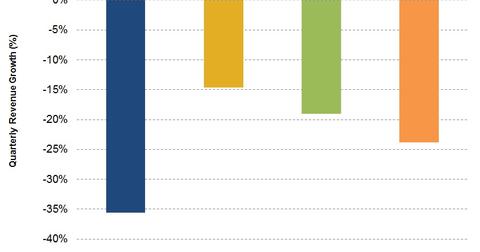 How Did FTI Manage Revenue Decline Better than Others?
By Alex Chamberlin

Updated
Comparing revenue growth
In this part of the series, we'll discuss how our four midcap oilfield service, or OFS, companies fared in terms of revenue growth in the recently reported quarter.
All four of our subject OFS companies—Weatherford International (WFT), FMC Technologies (FTI), Transocean (RIG), and Core Laboratories (CLB)—recorded 2Q15 revenue declines compared to the previous year 's corresponding quarter.
Article continues below advertisement
The holdout: FTI
FMC Technologies (FTI) registered the lowest revenue decline. It recorded a fall of 14.6% in 2Q15 revenue compared to the corresponding quarter a year ago. Its 2Q15 revenue was $1.69 billion compared to $1.98 billion a year earlier. By the end of its latest quarter ending June 30, 73% of FMC Technologies' total revenues came from its Subsea Production Systems segment. This segment's revenues decreased 6.7%, while the Surface Production Systems segment's 2Q15 revenues declined 29% over 2Q14.
FTI's revenues decreased because of a negative foreign currency translation effect and weaker economic conditions in North America. However, the bright spot in FTI's 2Q15 operations was the higher project backlog conversion in its Asia-Pacific business.
The laggards
Transocean's 2Q15 revenue declined 19% to $1.88 billion from $2.32 billion a year ago. Its 2Q15 revenues, compared to 2Q14 revenues, decreased primarily because of rigs being idled or stacked. It also decreased due to lower day rates and rigs sold this period. Transocean generated 94% of its 2Q15 revenues from contract drilling revenues. RIG is 0.03% of the SPDR S&P 500 ETF (SPY).
Core Laboratories recorded a 24% revenue decline in 2Q15 compared to the corresponding quarter a year ago. Its 2Q15 revenue was $203.8 million versus $267.5 million a year earlier. Revenues at its Production Enhancement segment decreased 36%, while revenues at the Reservoir Management segment decreased 45% from 2Q14 to 2Q15. The Reservoir Description segment, CLB's largest segment, registered a 9% revenue decline over the same period.
Weatherford International recorded a 35.6% drop in 2Q15 revenue compared to the corresponding quarter a year ago. Its 2Q15 revenue was $2.39 billion versus $3.71 billion a year earlier. By geography, North America was WFT's largest segment, accounting for 37% of its 2Q15 revenues, followed by the Middle East/North Africa/Asia segment, which accounted for 23%. In 2Q15, the lower rig count in North America led to lower demand for the company's pressure pumping, artificial lift, intervention, and drilling services.
We will look at the EBITDA growth figures of these companies in the following section.