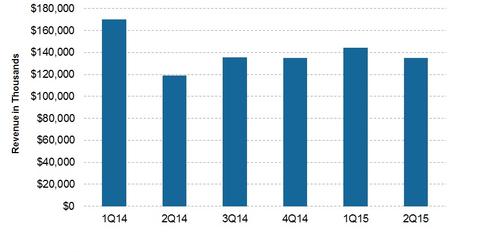 Frontline Management's Outlook for Tanker Rates
By Sue Goodridge

Updated
Revenue
Frontline (FRO) recorded revenue of $134 million in 2Q15, compared to $144 million in 1Q15 and $118 million in 2Q14. The average daily time charter equivalents (TCE) that the company earned in the spot market for its crude (DBO) tankers in 2Q15 through its VLCC (very large crude carrier) and Suezmax tankers are $50,600 and $33,800, respectively. These figures compare with $49,400 and $33,100, respectively, in the previous quarter.
Article continues below advertisement
What affected revenue?
Frontline recorded a YoY (year-over-year) revenue growth of 13% in 2Q15 due to the strength of this year's tanker rates.
Even though industry tanker rates were strong compared to 1Q15, the company recorded negative growth of -7% in 2Q15 compared to 1Q15.
Despite strong spot rates, greater exposure to the fixed charter market resulted in lower revenues in 2Q15 compared to 1Q15.
The company's revenue was also affected by the dry-docking of four vessels in 2Q15 compared to zero vessels in 1Q15.
 Management outlook
According to the company, the industry tanker earnings, which were around $80,000 per day in July, hovered around $25,000 per day in August.
The company is hopeful that the decrease in tanker earnings is a short-term effect only and that the market will improve and return to the higher rates we saw earlier in the year.
The company also sees concerns in the rising orderbook. Currently, the VLCC orderbook stands at 17%, which is 2% higher than last quarter. Meanwhile, the Suezmax orderbook stands at 15% of the current fleet. Management expects very little scrapping in the coming quarters and sees the orderbook as a concern. It suspects oversupply could pull rates down. This could have a negative impact on companies like Teekay Tankers (TNK), Nordic American Tanker (NAT), DHT Holdings (DHT), and Tsakos Energy Navigation (TNP).
Article continues below advertisement
What to expect from 3Q15
With industry tanker rates plunging, we expect the company's revenue will be negatively affected in 3Q15.
The company also plans to change its spot-fixed charter mix. A greater focus on the fixed charter market should lower revenue but also result in more predictable earnings and cash flow.
The company plans to dry dock two ships in 3Q15. There will be fewer off-hire days compared to 2Q15, and this should have a positive impact on revenues.
Merger effect
A planned merger between Frontline 2012 and Frontline should see Frontline's (FRO) total fleet jump from 23 to 89 vessels, and will most likely mean a huge leap in revenues.
The planned merger should increase the company's exposure to the product tanker market going forward.