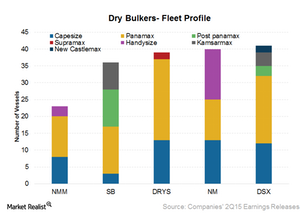 What's the Fleet Profile for Dry Bulk Companies at End of 2Q15?
By Anuradha Garg

Sep. 17 2015, Updated 11:08 a.m. ET
Fleet profile
Depending on volume, trade routes, and the geographical limitations of ports, various classes of vessels are employed. Capesize and Panamax vessels are larger vessels used primarily to transport iron ore, coal, and grains. Handymax or Supramax vessels are used to carry primarily grains and minor bulks.
In this article, we'll take a look at the fleet profiles for the major dry bulk companies.
Article continues below advertisement
Dry bulk exposure
Safe Bulkers (SB) has a fleet of 36 dry bulk vessels, including 14 Panamax, eight Kamsarmax, 11 Post-Panamax, and three Capesize, with a total of 3.3 million DWT (deadweight tonnage). Out of these vessels, one Kamsarmax and one Panamax were acquired during the second quarter of 2015.
Diana Shipping's (DSX) fleet consists of 41 dry bulk vessels, including two Newcastlemax, 12 Capesize, three Post-Panamax, three Kamsarmax, and 20 Panamax at the end of 2Q15. DSX's combined fleet-carrying capacity, excluding the three vessels not yet delivered, is ~4.65 million DWT. DSX has exposure to containerships through an equity investment in Diana Containerships (DCIX).
Diversified exposure
At the end of 2Q15, Navios Partners (NMM) had 23 dry bulk vessels, including eight Capesize, 12 Panamax, and three Ultra-Handymax. It also has eight container vessels. These vessels are expected to generate 45% of EBITDA (earnings before interest, taxes, depreciation, and amortization) by the end of 2015.
DryShips (DRYS) has exposure to the dry bulk industry through 39 dry bulk vessels, including 13 Capesize, 24 Panamax, and two Supramax, with a combined DWT of approximately 4.3 million tons. Since it is most exposed to Panamax vessels, the company said it could see vessel impairments if the Panamax rates perform poorly going ahead. Panamax rates are most influenced by coal and grain trade.
It sold off its ten tankers in May 2015. It also has exposure to offshore drilling through its 40.4% owned subsidiary Ocean Rig UDW (ORIG). During 2Q15, its ownership fell below 50%, resulting in deconsolidation of ORIG from DRYS's financial statements.
Navios Maritime Holdings (NM) is quite diverse in terms of exposure to marine shipping. It owns 40 dry bulk ships, including 13 Capesize, 12 Panamax, and 15 Handymax. It has exposure to dry bulk and containerships through its 20% interest in NMM. It also has 46.2% interest in Navios Maritime Acquisition (NNA), which has the majority interest in Navios Maritime Midstream Partners (NAP). NM also owns a 63.8% stake in Navios South American Logistics, which focuses on logistics.
The Guggenheim Shipping ETF (SEA) invests in major shipping companies around the world. Navios Maritime Partners forms 2.7% of SEA's holdings. The SPDR S&P Metals and Mining ETF (XME), on the other hand, provides global exposure to the metals and mining space.