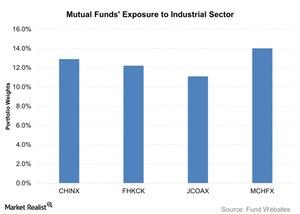 Flash Reading for Caixin China Manufacturing PMI
Caixin-Markit Manufacturing PMI
China's slowing manufacturing output, coupled with sluggish client demand, led to a sixth successive contraction in the Caixin-Markit Manufacturing Purchasing Managers' Index (or PMI) in August.
The Caixin China Manufacturing PMI was down to 47.1 from 47.8 in July, indicating that the economy is slowing down. A reading above 50 indicates that manufacturing activity is expanding. Below 50 signals a contraction.
China's annualized industrial production fell by 6.0% in July from a rise of 6.8% in June. This further highlights a weak demand from global consumers.
Article continues below advertisement
Mutual funds' exposure to the industrials sector
The four China-focused mutual funds—the China Fund Class I (CHNIX), the Fidelity China Region Fund Class C (FHKCX), the John Hancock Greater China Opportunities Fund Class A (JCOAX), and the Matthews China Investor Class (MCHFX)—have more than 10% exposure to the industrials sector.
The manufacturing sector is one of the pillars on which an economy thrives. Shrinkage in this sector causes other sectors to weaken.
China is a global manufacturing hub, and a slowdown in manufacturing activity and industrial production will have a downward impact on most companies. This is because all other sectors are interconnected with production activity.
A slowdown in manufacturing leads to less demand for laborers, and thus overall employment is affected. Factories require fewer funds due to lower overall demand, and the financial sector takes the hit.
The Chinese market is the major revenue driver for American computer giant Apple (AAPL), auto manufacturer Ford (F), and airplane manufacturer Boeing (BA). Sluggish growth in China would directly impact the revenues of these companies.
In the next article, we'll analyze China's retail and financial sectors and their impact on the mutual funds.