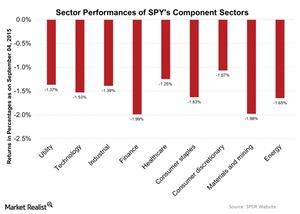 FED's Uncertain Rate Hike Brings All Sectors Down
By Renee Blakely

Sep. 8 2015, Published 12:05 p.m. ET
Finance and material sectors hit worst
Following the US Bureau of Labor Statistics' employment report on Friday, September 4, the financial and material sectors got hit the worst, falling by 1.99% and 1.98%, respectively. The graph below depicts the impact of the volatile market on each component sector of the SPDR S&P 500 ETF (SPY).
Mining companyFreeport-McMoRan's (FCX) stock, which gained 2.32% the previous day due to a rise in oil prices, declined by -4.15% on September 4. This decline in stock price was primarily due to declining oil prices and to the slump in the commodity market. E I DuPont De Nemours and Company (DD) and Ball Corp (BLL), whose stock yielded -3.88% and -3.32 %, respectively, followed the trend.
Similarly, the entire financial sector was affected on September 4, with CBRE Group (CBG), Prologis (PLD), and Leucadia National Corporation (LUK) yielding -3.02%, -2.99%, and -2.96%, respectively.
Article continues below advertisement
The Fed's waffling rate hike
The September 4 Bureau of Labor Statistics' employment report was, in fact, an indicator of good economic health in the US. The report revealed that the US unemployment rate was down to 5.1% in August—a seven-year low, which is indeed a positive news for the Fed—meaning that the domestic economy of the country is strong. However, when monitoring the Fed's uncertainty surrounding a rate hike, we should also consider the following key factors:
The number of jobs added in the US in the month of August was only 173,000—much less than the 220,000 jobs analysts had anticipated.
The US dollar became stronger just before the employment report—a rise that could mean costlier exports from US markets, as well as an increased trade deficit.
The sharp slowdown in China, which has affected the commodities and oil industries, has caused the global economy to stumble.
The demand for oil is falling against the rising oil supply.
The US inflation rate is still very low.
A rate hike could lead, additionally, to a capital flight from the equity market to the bond market, as well as from emerging markets like China to developed markets like the US. All these potential consequences don't point to a certain course of action until the Fed's meeting on September 16–17 conveys a clear message. Until then, the US market should continue to experience ups and downs.
In the next part of this series, we'll look at how the UK stock market has been affected.