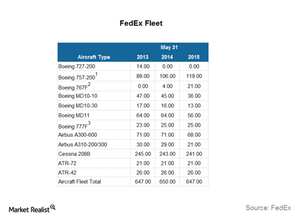 Why Is FedEx Adding Older Models of Boeing Planes to Its Fleet?
By Ally Schmidt

Updated
Fleet restructuring
One of the key initiatives of FedEx's (FDX) cost-cutting plan is fleet restructuring. The company has been aggressively retiring planes—especially the A310 and MD-10 aircraft and Boeing 727 planes. It plans to retire more than half of the remaining fleet within the next three years. These are older planes and planes that consume more fuel. They will be replaced by new and used planes.
In a recent move, FedEx placed a firm order for 50 Boeing 767 airplanes with an option for up to 50 more to follow. They will be delivered up to 2023. These planes will primarily replace the retiring fleet of MD-10 and other planes like the Airbus A300. However, the Boeing 767 is on the verge of retirement. By the time the company gets its deliveries, the plane would be a 40-year-old design.
Article continues below advertisement
Why it chose the 767
FedEx claims that the Boeing 767 planes that it's purchasing are ~30% more fuel efficient and have 20% lower unit operating costs than its MD-10s. They will let the company carry more freight at the same or a lower cost compared to the Airbus 300. This will also help the company see lower unit and maintenance costs.
The 767 is one of the most popular cargo planes made by Boeing. It's backed by a 30-year successful history of operations. Since it's at the later stages of replacement by newer planes, FedEx will buy it at better deals. It will be a low cost and reliable choice for FedEx.
Also, FedEx already has about 119 Boeing 757 planes in its fleet. The 767 planes are a close cousin of the 757. This will help FedEx achieve a more streamlined fleet. It will also have maintenance synergies between the two planes. Since both these planes have similar systems, the company wouldn't need separate pilots. This will lower employee costs too.
As a result, adding the old yet reliable 767 planes to its fleet won't harm FedEx. It will provide long-term earnings growth for the company and help it achieve a streamlined fleet.
FedEx forms the largest holding of 13.14% in the iShares Transportation Average ETF (IYT). Similar companies included in the ETF are United Parcel Service (UPS), Expeditors International (EXPD), and Con-way (CNW) with 7.60%, 4.19%, and 3.19% holdings, respectively.
However, cost cutting alone won't help FedEx in its future growth. Next, we'll look at how FedEx plans to gain market share.