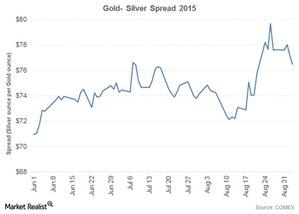 The Fed and China: A Tug of War on Gold Prices
By Meera Shawn

Sep. 8 2015, Updated 5:03 p.m. ET
Bullion and the spreads
On Thursday, August 27, gold didn't change much from the previous day's close. It closed at $1,117 an ounce. Prices dropped 1.7% in the week ending August 28. Gold is trading at $1,121 an ounce on the COMEX in New York as of September 3. Silver had a positive daily return on that day, whereas platinum and palladium fell 0.35% and 0.31%, respectively.
The gold-silver spread has been on an upward trend since the global market turbulence arising out of China and looming around the Fed decision on a rate hike. The current spread as of September 3 is ~$77.22. An ascending spread curve indicates that gold is getting more expensive as compared to silver. It will now take about 77 ounces of silver to buy a single ounce of gold.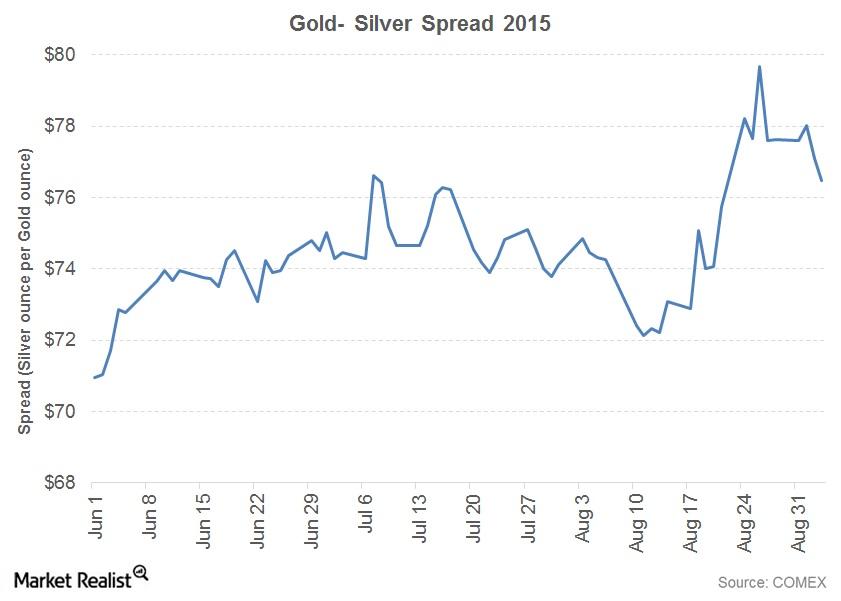 The gold-platinum spread had also surged during the economic uncertainty in the week ending August 28. The gold-palladium spread followed a similar trend.
Article continues below advertisement
VIX indicator
The VIX Index is used to measure the market expectations of 30-day volatility in the asset prices. VIX rose to the highest level since the financial crisis. With the increasing uncertainty, a long volatility position may be in the cards. The correlation between gold's volatility and the VIX Index was at its highest since October 2013. Gold's current implied volatility is trading close to $16.5. A higher VIX Index most likely assumes more volatility for the investors.
The Fed and China: a possible tug of war
Anxiety will continue to rise for investors if China doesn't protect its markets from further downfall. The US Fed's move on the interest rates may likely collide with a continued decline in the Chinese economy. The slowdown in China and a global market rout raised speculation that the Fed might wait longer before raising rates, which would likely result in gains for gold.
The Fed may also want concrete footing before hiking the rates. A stabilizing economy is a pre-condition for such a lift-off. Rather than acting as a safe-haven refuge, bullion's volatility rose along with equity turbulence.
Mining companies
Mining stocks saw a fall in prices on September 3 due to a drop in gold prices. Companies like Sibanye Gold (SBGL), Silver Wheaton (SLW), Primero Mining (PPP), Alamos Gold (AGI), and First Majestic Silver (AG) fell on September 3. These stocks together make up ~9.4% of the VanEck Vectors Gold Miners ETF (GDX).