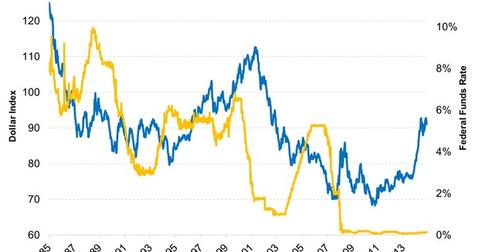 Expect More Volatility as the Dollar Heads Higher
By Russ Koesterich, CFA

Sep. 17 2015, Published 2:15 p.m. ET
A rocky ride is par for the course
In past dollar rallies, the dollar's rise is usually not uniform, with lots of dispersion across different currency pairs, and it's characterized by sharp reversals. According to BlackRock Investment Institute research, history suggests the dollar usually rises moderately before the first Fed rate hike, then stumbles for a year (as fixed income markets often take a hit), before resuming its rally. The same pattern could repeat itself this time around.
Article continues below advertisement
Market Realist –As the US dollar heads higher, expect a bumpy ride.
The graph above shows the dollar index (UUP) along with the Federal Funds rate. As you can see, the US dollar seems to strengthen due to anticipation just before the Fed raises rates and after.
When the Fed raises rates, there's usually a knee-jerk reaction, with the dollar strengthening. However, higher rates tend to make US bonds (AGG), especially Treasuries (TLT)(IEF), unattractive, as fund flows turn negative. This leads to a short-term weakening of the dollar. However, during the fag-end of the rising rate cycle, yields become attractive, causing the dollar to strengthen again.
This time around, though, things are a little different. Not only are rates rising from extremely low levels, long-dated Treasuries are also offering attractive yields compared to their counterparts in Europe (EZU) and Japan. Foreign demand could keep yields low, despite rising rates, and the dollar strong.
Also, when the Fed eventually starts unloading its swollen balance sheet, that's likely to support the dollar further. However, that will play out in the long term.
Currency movements are notoriously volatile. While they are mean-reverting in the long term, they tend to be quite volatile in the short-term, especially in times like these.