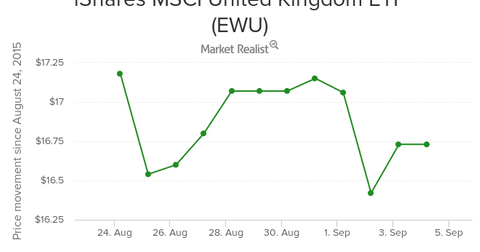 EWU Rises over Draghi's Comment on the ECB's Asset-Buying Program
By Renee Blakely

Updated
The UK markets' reaction to Draghi's comment
European Central Bank, or ECB, Chief Mario Draghi gave a sigh of relief to UK investors as well other stock markets in the world by assuring the markets of the ECB's policy intent to revive the Eurozone's economy. He stated the ECB is ready to bolster the economy through its asset purchase program, which can be extended even beyond mid September 2015. The ECB is flexible to make moves according to inflation conditions in the Eurozone.
The UK market's reaction was reflected in the rise of the iShares MSCI United Kingdom ETF (EWU) on Thursday, September 3.
[marketrealist-chart id=636840]
Article continues below advertisement
The UK and US markets were in panic over the turmoil in the Chinese stock market. The release of China's PMI (purchasing managers' index) data added to the woes. The Chinese stock market was closed for the two-day holiday for China's World War II victory day parade. In the absence of any further volatility-inducing news from the East, the comment by the ECB's chief came as relief.
How does the ECB's asset-buying program help UK and US markets?
In the first half of 2015, the Eurozone underwent a quantitative-easing program that did not completely fulfill the objective of economy recovery. Economic growth in the region is still low, and the interest rate is already near 0%. In such a situation, the ECB cannot undertake further quantitative easing by lowering interest rates to boost the money supply in the economy.
However, to increase the liquidity in the system, the ECB can purchase assets and bonds. By injecting liquidity in the region, the ECB intends to make borrowing cheaper for businesses. This should lead to an increase in overall economic activity, which in a way will likely increase the demand for inputs (including commodities). The rise in consumer demand should boost inflation, while the rise in producer demand should reduce unemployment, thereby accelerating the business cycle. The increase in the demand for commodities such as oil, fuel, metals, machinery, and raw materials will likely boost trade with other nations. This will benefit both the UK and the US markets.
Meanwhile, the ECB has revised downwards its inflation growth rate forecasts until 2017. With this announcement, the euro has gone weak against the US dollar. September 3 saw a rise in the stocks of GlaxoSmithKline (GSK) by 1.44%, BP (BP) by 0.65%, Arm Holdings (ARMH) by 1.30%, and Barclays (BCS) by 1.38%.
For a further read on ECB's quantitative easing, refer to "September ECB Meeting Hints at More Quantitative Easing."