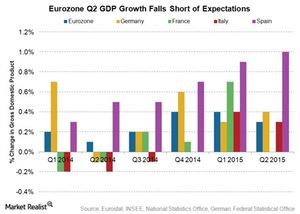 Why the Eurozone May Need More Monetary Stimulus
By Surbhi Jain

Nov. 20 2020, Updated 11:48 a.m. ET
Macro variables that might warrant more QE in the Eurozone
Growth in the Eurozone (VGK)(HEDJ), which was fueled by the European Central Bank's (or ECB) quantitative easing (or QE) program that the bank initiated in March 2015, seems to have stalled on increasing global economic uncertainty. Let's take a quick look at the key macroeconomic indicators that seem to warrant the additional stimulus.
Article continues below advertisement
GDP growth declined
GDP (gross domestic product) growth was expected to rise in Q2 on the back of the monetary stimulus from the ECB to boost economic activity. However, Eurozone GDP grew at a 0.3% rate in Q2 (over the previous quarter), down from the 0.4% GDP growth it had recorded in Q1. Though Germany and Spain did improve on the GDP front in Q2 versus Q1, France and Italy were down.
Inflation is caught in a lull
The inflation rate for the Eurozone, as gauged by the change in the consumer price index, was in negative territory in December 2014 and throughout the first quarter of this year. In April, the inflation rate rose to 0% after four continuous months of deflation.
The Eurozone has emerged from its deflationary woes due to the ECB's (European Central Bank's) monetary stimulus package. However, after a 0.3% inflation rate recorded in May 2015, the rate came down to 0.2%, and it had remained at that level over the last three months. The inflation rate in the Eurozone has been caught in a lull since June 2015.
Article continues below advertisement
Unemployment still high at 10.9%
Unemployment in the Eurozone has been declining. The rate is down from 11.3% in March 2015 to 10.9% in August, aided by monetary stimulus that helped boost factory activity employment. Anheuser-Busch InBev (BUD), Royal Dutch Shell (RDSA), and HSBC (HSBC) are among the largest employers in the Eurozone.
However, the rate is still quite high at 10.9%, compared to the 5.3% in the United States (SPY), and 5.6% in the United Kingdom (EWU). The US unemployment rate reached about 10% during the 2009 crisis. However, appropriate and timely reforms helped the economy recover. The US unemployment rate now stands at 5.3%. So the prodigious 10.9% that the Eurozone sported is a definite deterrent to growth in the area.
While Mario Draghi did highlight the governing council's "willingness and ability to act, if warranted, by using all the instruments available within its mandate" and that "the asset purchase programme provides sufficient flexibility in terms of adjusting the size, composition and duration of the programme," time will tell whether we'll see a reversal in Eurozone indicators.
For our latest analysis on the Eurozone, please visit our European Equity ETFs page on the Market Realist website.