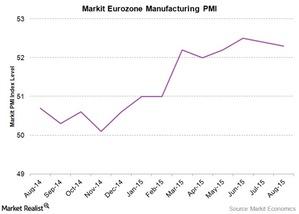 Eurozone Business Activity Proves Resilient to Global Uncertainty
By Surbhi Jain

Updated
Great expectations from the Eurozone on ECB stimulus
Investors in the Eurozone have been expecting positive economic news from the area. The ECB's (European Central Bank's) bond-buying program, intended to spur economic activity in the Eurozone, boost inflation, and rescue the economy from deflation, has been in effect since March this year.
Investors in the European equity-tracking Vanguard FTSE Europe ETF (VGK) and the SPDR EURO STOXX 50 ETF (FEZ) hold great expectations for the area as the monetary authority's measures try to turn the table around. European equity has been outperforming US equity in 2015.
The September 1 Markit Eurozone Manufacturing PMI readings met investors' expectations.
Article continues below advertisement
Eurozone business activity barometer
Markit Economics' Eurozone Manufacturing PMI (Purchasing Managers' Index) report for August met expectations for Eurozone business activity despite heightening global economic uncertainty. Some may have expected the reading to weaken on account of the global turmoil; however, the final reading for the manufacturing index for August came in at 52.3, indicating expansion of business activity. The manufacturing index stood at 52.4 in July. The reading dipped marginally in August.
Eurozone business activity scored despite global slowdown
The numbers were all positive, indicating business activity expansion in the Eurozone. Output expanded in Germany and France. The Luxembourg-based Arcelor Mittal (MT), and the Britain-based GlaxoSmithKline (GSK) and Unilever (UN) are some notable manufacturing-sector companies operating in the Eurozone.
Rob Dobson, senior economist at Markit Economics, said, "The eurozone manufacturing sector showed continued resilience in August, with output growth and inflows of new business both strengthening….By nation, the Netherlands, Italy and Ireland remained the most impressive performers."
Within the Eurozone, Markit Economics reported PMI numbers for Germany, France, Italy, Spain, Poland, Turkey, the Netherlands, and the Czech Republic. Let's take a quick look at these releases in the next parts of this series.