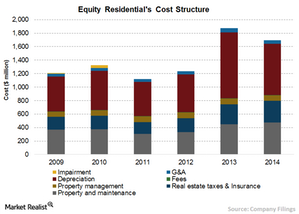 What Was Equity Residential's Cost Structure?
Cost structure
Equity Residential's (EQR) consolidated cost was $1.69 billion for fiscal 2014—down by 9.70% over 2013. This came after a 52% rise in the total cost in 2013. Depreciation and amortization accounted for 44.80% of the total cost in 2014. It was followed by property and maintenance expenses at 28.90% and real estate taxes at 19.20%. G&A (general and administrative) expenses accounted for 3% of the total cost.
Article continues below advertisement
Cost components
The depreciation expense fell by 22.50% to $759 million in 2014. This was mainly due to in-place residential lease intangibles that are normally amortized over a six-month period. They can substantially elevate the depreciation expense after an acquisition. This occurred during 2013 as a result of the Archstone acquisition. It was partially offset by additional depreciation expense on the properties acquired in 2014 and development properties placed in service.
The property management expenses fell by 5.60% to $80 million in 2014 compared to 2013. Property management expenses include off-site expenses associated with the self-management of the company's properties as well as management fees paid to any third-party management companies. The fall in property management expenses can be attributed to a fall in payroll-related costs, office rent, conferences, and legal fees.
Article continues below advertisement
The rise in real estate taxes by 10.70% to $325 million in 2014 compared to 2013 is primarily attributed to rate and value increases in certain states and municipalities. In contrast, property maintenance expenses rose to the highest level during the last six years to $473 million in 2014—up by 5.30% over the previous year. Property maintenance expenses fell by 18.60% in 2011 to $304 million. Since then, the expenses rose rapidly with the growth in revenue.
EBITDA margin
Equity Residential recorded an EBITDA (earnings before interest, tax, depreciation, and amortization) margin of 64.40% in 2014—compared to 63.90% in the previous year. The company's EBITDA margin peaked to 68.60% in 2012. The company's EBITDA margin in 2014 was the highest in the peer group. For example, AvalonBay Communities (AVB) reported an EBITDA margin of 63.60%. It was followed by UDR (UDR) at 60% and Essex Property Trust (ESS) at 58%. The industry average EBITDA margin was 57.70% in 2014. Equity Residential accounted for 4.76% of the SPDR DJ Wilshire REIT ETF (RWR).
In the next part, we'll discuss Equity Residential's capex.