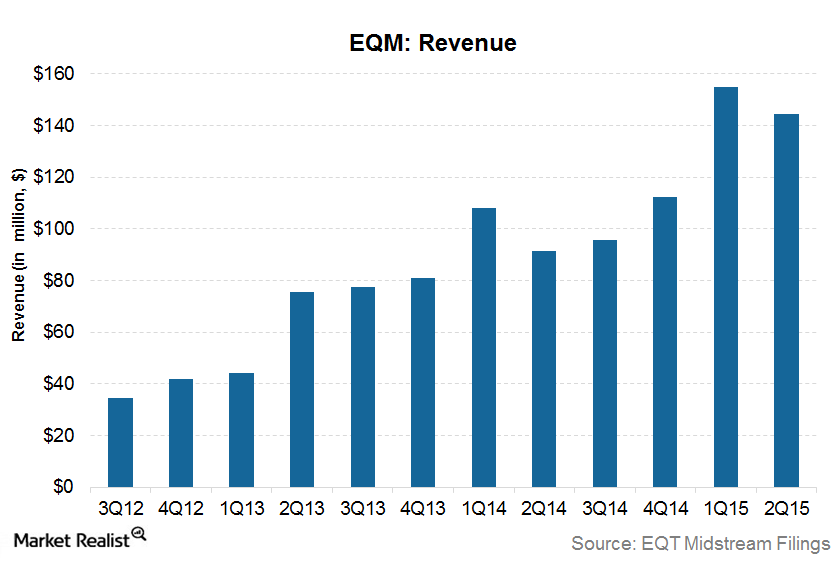 EQT Midstream Benefited from Firm Reservation Contracts
By Kurt Gallon

Sep. 10 2015, Published 3:23 p.m. ET
EQT Midstream
EQT Midstream Partners (EQM) is a midstream MLP involved in natural gas gathering, transmission, and storage services. EQT Midstream was formed by EQT (EQT) to own, operate, and acquire midstream assets in the Appalachian Basin. EQT is one of the largest natural gas producers in the Appalachian Basin.
Other midstream MLPs that provide natural gas midstream services in the Appalachian Basin include MarkWest Energy Partners (MWE), Summit Midstream Partners (SMLP), and TC Pipelines (TCP). EQT Midstream accounts for 0.58% of the Global X MLP & Energy Infrastructure ETF (MLPX).
EQT GP Holdings (EQGP) holds 100% general partner interest in EQT Midstream. Apart from this, EQGP also holds all IDRs (incentive distribution rights) and a 30.20% limited partner interest in EQT Midstream. EQGP is a wholly own subsidiary of EQT.
Article continues below advertisement
EQT Midstream's revenue
The partnership's 2Q15 revenue grew by 35% YoY (year-over-year) compared to 2Q14. It was driven by increased gathered volumes and higher "contracted firm transmission capacity." EQT Midstream's revenue spikes during the first and fourth quarter of the year due to higher natural gas demand during the winter.
EQT is EQT Midstream's largest customer. EQT accounted for ~74% of the partnership's 2Q15 revenue. The remaining business comes from other third-party producers or customers.
Revenue drivers
Throughput volumes – EQT Midstream's biggest revenue driver is throughput volumes. The partnerships total transmission pipeline throughput for 2Q15 rose by 457 billion British thermal units per day versus 2Q14. This was a YoY (year-over-year) rise of 29.40%. At the same time, the partnership's total gathered volumes rose by 386 billion British thermal units per day. This was a YoY rise of 37.30%. The partnership's gathered volume was driven by higher production in the Marcellus Shale.
Type of contracts – A rise in firm reservation contracts, or firm contracts, drove the partnership's gathering revenue in recent quarters. Under firm contracts, a fixed monthly fee is charged for the reservation of pipeline capacity regardless of whether the capacity is used. Also, a volume-based fee, or usage fee, is charged for the amount of natural gas transported. The partnership also provides services under interruptible contracts. Under interruptible contracts, that are typically short term in nature, only a usage fee is charged
EQT Midstream's adjusted EBITDA
EQT Midstream's adjusted EBITDA (earnings before interest, tax, depreciation, and amortization) for 2Q15 and 1H15 grew by 93.10% and 110.60% over 1Q14 and 1H14, respectively. The partnership's EBITDA growth was driven by higher firm reservation fee revenue and recent acquisitions.