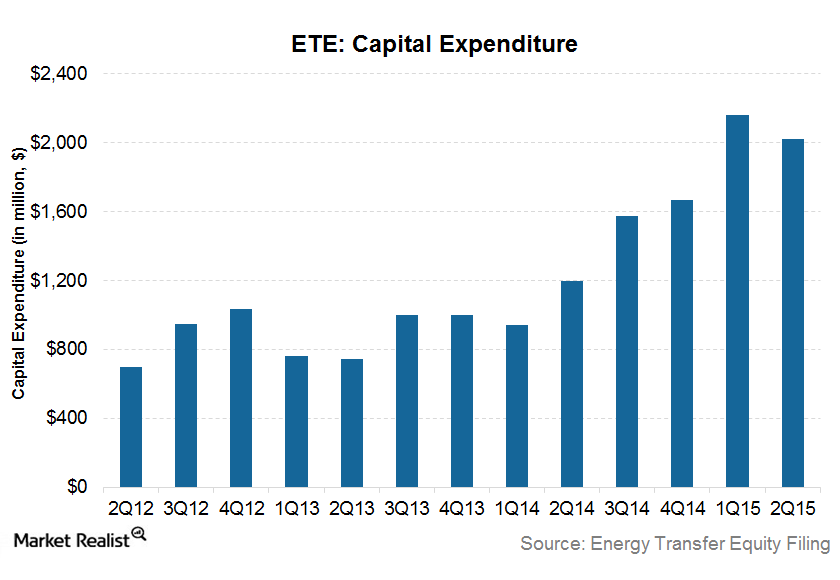 What Are Energy Transfer Equity's Capital Expenditure Forecasts?
Energy Transfer Equity's capital expenditure
Energy Transfer Equity's (ETE) major subsidiaries include Energy Transfer Partners (ETP), Sunoco Logistics (SXL), and Sunoco LP (SUN). Together, they have spent ~$4.17 billion in the first six months of 2015—compared to $2.11 billion spent during the same period in 2014. For context, Energy Transfer Equity owns very few business assets. It derives its major earnings from ownership interest in its subsidiaries.
Article continues below advertisement
Planned capital expenditure
Energy Transfer Partners has forecasted its full-year capital expenditure to be $5.4–$5.8 billion. Sunoco Logistics is expected to spend $2.4–$2.6 billion by the end of 2015. This includes the investment in the Bayou Bridge pipeline project. We'll discuss this later.
Midstream infrastructure overbuild
Some of Energy Transfer Equity's peers believe that there's a possible "overbuild" of infrastructure as shippers have started cutting their productions. According to Sandy Fielden, an energy analyst at RBN Energy, "There's not enough crude to fill the pipelines." At the same time, Energy Transfer Equity seems to be pretty bullish on all of its subsidiaries' projects.
According to Jamie W. Welch, Energy Transfer Group's CFO, "We are in the very early innings of pretty much most of our projects. And that gives us tremendous runway benefit over the next almost decade as we look out across."
Article continues below advertisement
Major organic projects in the Energy Transfer Group
Bayou Bridge pipeline – Energy Transfer Partners, Sunoco Logistics, and Phillips 66 (PSX) announced that they "have formed a joint venture to construct the Bayou Bridge pipeline that will deliver crude oil from the Phillips 66 and Sunoco Logistics terminals in Nederland, Texas to Lake Charles, Louisiana. Phillips 66 holds a 40% interest in the joint venture and ETP and SXL each hold a 30% interest."
Lake Charles LNG – Energy Transfer Partners announced that it purchased additional land that it needed for the Lake Charles LNG export project from Alcoa. The FID (final investment decision) is pending on the project. According to a recent conference call, Energy Transfer Partners believes that "Lake Charles LNG is one of the most attractive pre-­FID projects for both Shell and BG and that, as a result, we remain on target to sanction FID of this project in 2016."
Other midstream MLPs that have invested in LNG (liquefied natural gas) opportunities include Enterprise Products Partners (EPD), Cheniere Energy Partners (CQP), and Boardwalk Pipeline Partners (BWP). Together, Energy Transfer Partners, Energy Transfer Equity, Sunoco Logistics, and Enterprise Products Partners account for 31.49% of the Global X MLP ETF (MLPA).