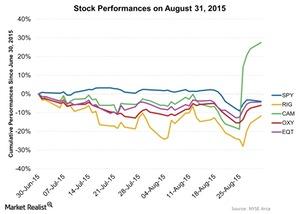 The Energy Sector: The Sole Gainer on August 31
By Renee Blakely

Updated
Energy stocks trade above moving averages despite SPY's August 31 fall
The graph below shows the energy stocks that traded above their 20-day and 50-day moving averages on Monday, August 31, versus the SPDR S&P 500 ETF (SPY).
On August 31, Diamond Offshore Drilling (DO), Transocean (RIG), Occidental Petroleum (OXY), EQT Corp. (EQT), and Cameron International (CAM) traded at prices above their 20-day and 50-day moving averages. Moving averages are the technical indicators that help analyze a stock movement's trend. When stock prices are above a certain moving average, this implies an upward trend in the stock's movement.
Article continues below advertisement
A downward trend occurs when the stock consistently trades below the moving average. The 20-day, 30-day, 50-day, and 100-day moving averages are moving averages of different frequencies. The frequencies of the moving averages for a technical analysis are selected based on the discretion of the analyst.
In the above graph, we see the above-mentioned stocks are heading upward after August 25. Cameron International (CAM) shows a greater rise in its trading price. It surpassed its 20-day and 50-day average, as well as its 100-day moving average of $52. CAM's closing price on August 31 was $66.76.
Energy sector
The energy sector was the sole gainer on August 31. This move was largely triggered by the soaring oil prices and the fall in the US oil inventory. The graph below showcases the sector-wise performance of the SPDR S&P 500 ETF (SPY) on August 31.
Article continues below advertisement
What made the other sectors go red?
Barring the energy sector, the US stock market fell on Monday, August 31, following the speculation of an interest rate hike this year. The market was doubtful due to the statement of Federal Reserve vice chair Stanley Fischer that the probability of a rate hike in September meeting is strong owing to improving US economic indicators. This message conflicted with the prior comment by William Dudley, the New York Federal Reserve chief, that a September rate hike has become "less compelling."
This speculation should continue to loom over the US stock market in September until the Fed's policy meeting is held, giving the possibility of a hike some clarity. This decision largely depends on the US economic indicators, as well as the economic growth pace in China and its recovery. Accordingly, the Fed may adjust the US monetary policies. The increase in the Fed's funds rate could imply that investors may shift from equities to government securities given the existing turbulence present in the stock market.
In the next article, let's look at the UK stock market.