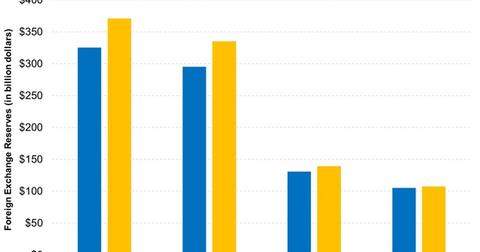 Some Emerging Markets Can Likely Handle Soft Growth in China
By Hugh Young

Updated
We should add that the present situation is nothing like the dot-com crash, SARS, or most recently, the global financial crisis. One or two countries are without question vulnerable to capital outflows, which will put pressure on debt servicing and currencies. However, these are exceptions and we do not see the scope for contagion because the differences within emerging markets are better understood today. Comparisons being made with the Asian crisis nearly 20 years ago make no sense to us.
We continue to have great confidence in the quality of our stock selections as well as the long-term story that underpins Asia. Our experience suggests that none of what's happening today is particularly new or surprising.
Article continues below advertisement
Market Realist – Some emerging markets are well placed to handle soft growth in China.
In 2013, when the Fed announced that it would gradually end its QE (quantitative easing) program, many emerging markets (ABE)(FEO) saw huge outflows of funds, leading to a sharp depreciation in their currencies.
Since then, many of these economies have shored up their current account balances and beefed up their foreign exchange reserves in order to stop their currencies from bleeding so much. The graph above shows the changes in foreign exchange reserves for South Korea (EWY), India (IFN)(PIN), Turkey (TUR), and Indonesia (IF)(EIDO) since 2013.
These economies are in better positions to deal with the looming rate hike and to prevent extreme currency volatility. Compared to the Asian crisis in the late 1990s—when there was a massive depreciation in Asian currencies—these economies seem to be in a much better place.
That being said, the slowdown in China (GCH) is likely to affect growth in these economies. However, many emerging economies in Asia are self-sufficient in that they're driven by domestic demand, and a growing, young, urban population is likely to drive them in the long term.
Read Equity Markets: Is a September Swoon Ahead? for more analysis.