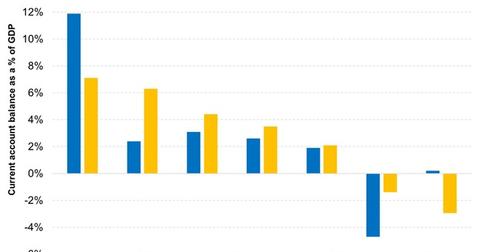 Why Emerging Asia Looks Relatively Attractive
By Russ Koesterich, CFA

Sep. 24 2015, Published 2:35 p.m. ET
Emerging Asia
I also see potential opportunities in Asia's emerging markets, despite my more cautious stance toward the broader emerging market asset class. Many Asian emerging markets, including the Chinese market listed in Hong Kong, have sold off in concert with China, leaving their valuations once again cheap.
In addition, with most countries in emerging Asia running a current account surplus and possessing sizable foreign currency reserves, I believe emerging Asia could be better positioned to withstand a Fed tightening cycle than other emerging markets.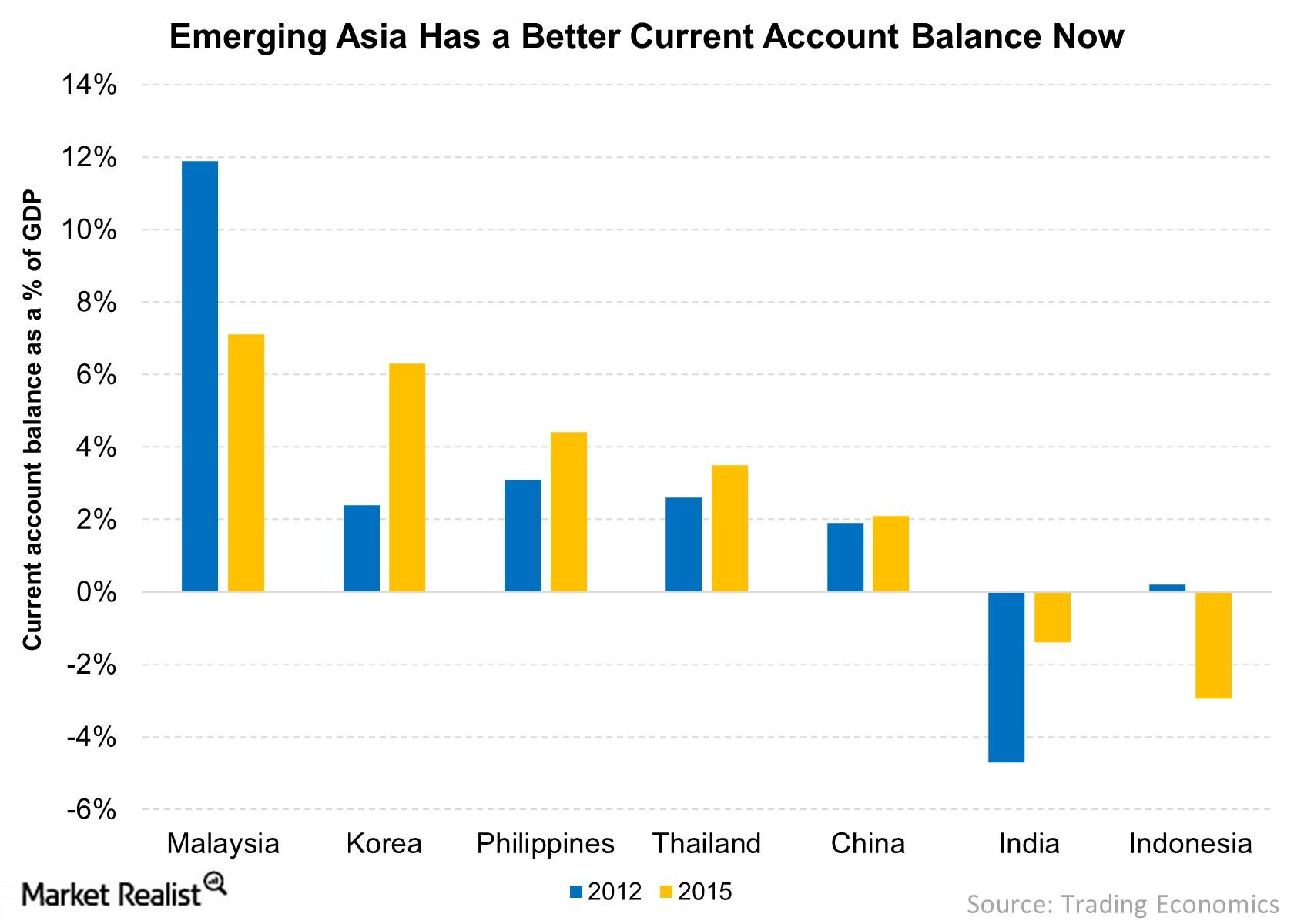 Article continues below advertisement
Market Realist – Emerging Asia looks relatively attractive due to stronger current account balances.
A rate hike in the US would lead to higher yields on US Treasuries (TLT)(IEF). This attracts yield seekers away from riskier emerging market assets. During the Taper Tantrum in 2013, when the Fed announced it would wind down the QE (quantitative easing) program, Treasury yields rose while emerging market equities (EEM) fell.
When prices of risk-free assets like Treasuries fall, investors typically sell their risky assets and purchase Treasuries, which are now available at attractive levels. However, that effect is likely to be muted this time, as rates will be rising from very low levels.
Also, economies with a positive trade balance aren't very reliant on foreign capital funding, and thus may not be as impacted by capital outflows. As the graph above shows, most emerging Asian economies have a much better current account status than three years ago. India (EPI) for example has a current account deficit of 1.4% compared to 4.7% in 2012. Malaysia, Korea (EWY), the Philippines, Thailand, and China (FXI) all have positive current account balances. This will position the emerging Asian economies well when the Fed does hike rates.
Also, most emerging markets have beefed up their foreign reserves, which will help them in keeping currency volatility low.