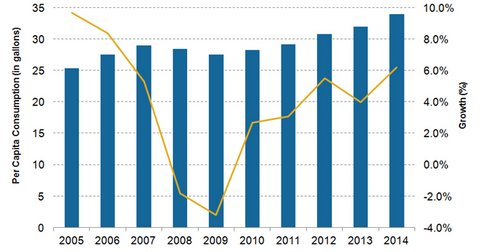 The Emergence of Bottled Water as a Vital Beverage Category
By Sirisha Bhogaraju

Updated
Back to basics
Americans are increasingly shifting their beverage preference from sugary drinks to the most basic beverage, water. According to the Beverage Marketing Corporation, the average American consumed 34 gallons of bottled water in 2014. This represents a 6.2% rise compared to the per capita consumption in 2013. The per capita consumption of bottled water increased by 4% and 5.5% in 2013 and 2012, respectively. Overall, the total volume of bottled water consumed in the US increased by 7.4% to 11 billion gallons in 2014.
As indicated in the graph above, the per capita bottled water consumption has been on the rise since 2009. The fall in 2008 and 2009 was influenced by recessionary conditions.
Article continues below advertisement
Soft drink consumption falls
The per capita consumption of bottled water increased to 34 gallons in 2014 from 16.7 gallons in 2000. In contrast, the per capita consumption of carbonated soft drinks (or CSDs) fell to 39.9 gallons in 2014 from 53.2 gallons in 2000. This decline has impacted the volumes of soda sold by Coca-Cola (KO), PepsiCo (PEP), and Dr Pepper Snapple (DPS).
Coca-Cola and PepsiCo together account for 4.1% of the portfolio holdings of the iShares Russell Top 200 Growth ETF (IWY). Dr Pepper Snapple constitutes 2.1% of the First Trust Consumer Staples AlphaDEX Fund (FXG).
Reasons behind the rise in consumption
The rise in the consumption of bottled water has been driven by the shift in consumer preference for healthier beverages. Soda has often been criticized for its high sugar content and caffeine. The alleged health impacts of CSDs include high blood pressure, heart disease, diabetes, and obesity.
On the other hand, bottled water doesn't contain any calories, is healthier than soda beverages and sugary juices, and is considered convenient to carry. We will explore the major categories of bottled water in the next part of this series.