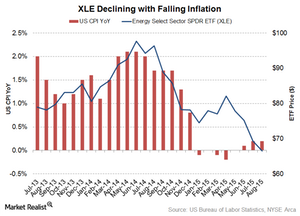 What is Driving Decreasing Inflation?
By Lara Sheldon

Sep. 18 2015, Updated 4:45 p.m. ET
CPI inflation declined to 0.1% in August
According to the US Bureau of Labor Statistics, the US Consumer Price Index (or CPI) fell 0.1% in August. A sharp drop in gasoline prices and the decline in the fuel oil index have contributed significantly toward the decline. However, the index for natural gas and electricity increased in August.
Commodity prices continue to subdue inflation globally, and they remain a main concern for the Federal Reserve and any decision regarding future interest rate increases.
Article continues below advertisement
The food index rose 0.2 % in August whereas the index for all items, with the exception of food and energy, increased 0.1 % in August. The index for shelter, apparel, tobacco, and alcoholic beverages increased. However, the index for airline fares declined sharply as a result of its inverse correlation with energy prices. The indexes for household furnishings and operations, recreation, and used cars and trucks also decreased in August.
XLE declining with falling inflation
For the past 12 months, inflation increased by 0.2% in August, the same increase as in July 2015. The food index rose 1.6 % over the last 12 months while the energy index declined 15.0%.
With falling crude prices, the Energy Select Sector SPDR ETF (XLE) is down 31.13% over the past year. The trend is not different for energy stocks such as Exxon Mobil Corporation (XOM) and Chevron Corporation (CVX), which are down 23.47% and 36.64%, respectively, over the same period as of September 16.
Airline stocks descending with declining fares
Declining airline fares impact the industry-related stocks negatively. Airline stocks such as American Airlines Group (AAL), Virgin America (VA), and Delta Air Lines (DAL) are down 20.13%, 16.32%, and 4.25%, respectively, year-to-date as of September 16.
Inflation is an important indicator tracked by financial investors, as it seeks an insight on how much a consumer pays for goods and services. It also provides a barometer to access the consumer sentiment in the economy, which helps shapes the business environment. Like high inflation, low inflation is not favored by investors.
Consumer spending is an important factor in boosting economic growth. However, lower oil prices and a stronger dollar are keeping the inflation in the US at low levels. It is well below the Federal Reserve's target rate of 2% and may cause further delay in the rate hike by the Federal Reserve.
The US Federal Reserve takes a number of factors into account while making monetary policy decisions. Housing market indicators play a major role there. September 16 also saw two key housing market indicators release in the US. Next, let's see what these indicators have to say.