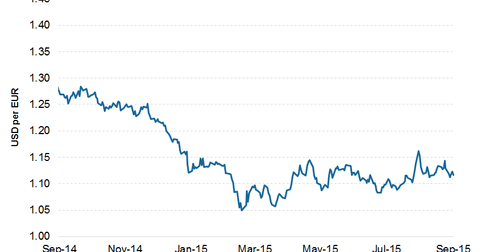 How Divergence in Global Monetary Policies Can Impact Gold Prices
By Anuradha Garg

Updated
Will the ECB ease more?
The monetary policies in the United States (SPY) (IVV) are expected to diverge from those in Europe and Japan. The main reason for the divide in central bank policies of the respective regions is the difference in their economic outlooks.
The European economy is going through a phase of low inflation and growth. Although the recent data points for the PMI were better than expected, persistently weak inflation data might lead the ECB (or European Commercial Bank) to expand its quantitative easing (or QE) started in March 2015. On September 23, ECB chief Mario Draghi noted that the ECB "will not hesitate to act if some of the downward risks weaken the inflation outlook over the mid-term more fundamentally than we project at present."
Inflation remains much lower than the ECB's target rate of 2%. Annual CPI (or consumer price inflation) for August weakened to 0.1%.
Article continues below advertisement
Japan also feeling the heat
In the face of lower inflation, Japan's central bank is also under pressure to ease its policy further. The Bank of Japan (or BoJ) is already buying government bonds worth 80 trillion yen annually. Japan's CPI, excluding food and energy, rose by just 0.6% year-over-year in August, which undershot BoJ's target of 2%.
Fed and ECB actions: Gold outlook
As we previously discussed in this series, the outlook for US economy is that Fed will start hiking interest rates either in 2015 or early 2016. This could lead to a monetary policy divide between the Fed and the ECB, which should help strengthen the US dollar further against the euro.
A strengthened dollar is negative for gold prices (GLD), which could have a fallout impact on gold stocks like Goldcorp (GG), Kinross Gold (KGC), Newmont Mining (NEM), and Barrick Gold (ABX). Exchange-traded funds like the Gold Miners Index ETF (GDX) that invest in these gold stocks would also be negatively affected. Goldcorp and Kinross Gold account for 10.60% of GDX's holdings.