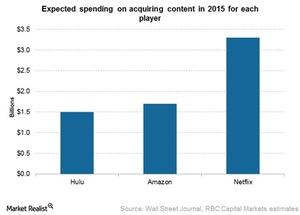 Disney and Netflix: Friends or Foes?
By Shirley Pelts

Sep. 21 2015, Updated 1:42 p.m. ET
Disney's strategic partner Netflix
Bob Iger, chairman and CEO (chief executive officer) of The Walt Disney Company (DIS), stated in the company's fiscal 3Q15 earnings call that "we look at Netflix actually right now as more friend than foe because they become an aggressive customer of ours. I also think that products like Netflix are pretty attractive because they offer a very user-friendly, efficient and often times much less expensive way for people to watch television."
OTT (over-the-top) operators like Netflix (NFLX) are gaining popularity in the changing media landscape, so Netflix is becoming an important strategic partner for Disney. Let's take a look at why Disney views Netflix as a strategic partner and less of a competitor.
Article continues below advertisement
The Wall Street Journal reported on August 30, 2015, that Netflix won't renew its deal with Epix cable network, which will end in September. This means that popular Epix movies like Transformers: Age of Extinction and Hunger Games: Catching Fire won't be streamed on Netflix. Metro-Goldwyn-Mayer Studios, Lions Gate Entertainment (LGF), and Viacom's (VIA) Paramount Pictures own Epix.
According to a Wall Street Journal report citing RBC Capital Markets estimates, Netflix could spend $3.3 billion this year on content acquisition. Comparatively, Amazon (AMZN) is expected to spend $1.7 billion and Hulu $1.5 billion on content acquisition in 2015.
Disney is Netflix's content partner
Netflix is allowing its Epix deal to lapse because the company is focusing more on original content, and it's looking at Disney to provide this content. Disney's ABC Studios struck an original content deal with Netflix in the fall of 2013.
As part of this deal, Disney's ABC Studios is producing four live-action series for Netflix, leveraging characters from the Marvel Universe. The first of this series was Daredevil, which had good audience engagement. There are three more serialized programs in the pipeline from Disney with characters from the Marvel Universe.
Disney has also entered into an exclusive syndication arrangement with Netflix for the Pay 1 and Pay 2 windows for films released through calendar year 2018. It means that Netflix can stream new Disney movies released from 2016 onward. Netflix has become an important customer for Disney in terms of Disney's licensing and distribution revenues.
You can get diversified exposure to Disney by investing in the iShares S&P 100 Index ETF (OEF), which holds 1.46% of the stock.