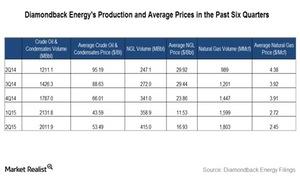 Diamondback Energy's Production Volumes and Realized Prices Diverge
By Alex Chamberlin

Updated
Diamondback Energy's realized prices
In the previous part of this series, we discussed how Diamondback Energy's (FANG) revenues are tied to production volume and realized prices. We'll discuss these in greater detail here. Crude oil, which accounts for the majority of Diamondback Energy's total production, recorded a 44% decline in average realized prices from 2Q14 to 2Q15. Its NGL (natural gas liquids) realized prices decreased 43%, while natural gas realized prices fell 44% during the same period.
Diamondback Energy's average realized prices for all energy products in 1Q15 were the lowest in the past six quarters. But, crude oil average realized price increased from 1Q15 to 2Q15.
Article continues below advertisement
Diamondback Energy's production
In 2Q15, Diamondback Energy's crude oil production volumes increased 66% to 2,012 thousand barrels (MBbl) of oil compared to 1,211 MBbl in 2Q14. However, compared to 1Q15, crude oil production decreased by 5.5% in the latest quarter. NGL and natural gas production growth was also impressive in 2Q15 compared to the year-ago quarter. Between 2Q12 and 2Q15, Diamondback Energy's total production increased nearly almost 11 times.
Compared to Diamondback Energy's 68% rise in year-over-year production in 2Q15, Energen Corporation's (EGN) 2Q15 production decreased 7.7% from the year-ago quarter. Pioneer Natural Resources' (PXD) 2Q15 production increased 11.8% over 2Q14. FANG makes up 0.26% of the iShares North American Natural Resources ETF (IGE) and 0.28% of the iShares U.S. Energy ETF (IYE).
Article continues below advertisement
How volume and price affected revenues
Lower average crude oil price realization from 2Q14 to 2Q15 resulted in Diamondback Energy's $83.8 million revenue decline. On the other hand, increased crude oil production resulted in a $76.8 million revenue addition, offsetting the price-related decline to a large extent. Similarly, natural gas and NGL production and price movements affected FANG's revenues in the past quarters.
Diamondback Energy's drilling estimates
In July 2015, Diamondback Energy added a fourth horizontal rig. In 3Q15, it expects to add a fifth rig. It also revised its estimated gross horizontal wells from the range of 55 to 65 gross wells to the range of 60 to 70 in 2015.
Next, we will discuss Diamondback Energy's net income drivers.