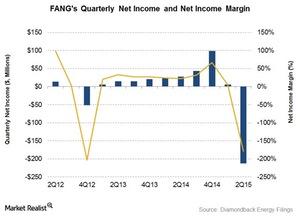 Diamondback Energy's Net Income Falls after Reaching High in 4Q14
By Alex Chamberlin

Updated
Has Diamondback Energy's resilient revenue translated to steady net income?
After posting a net adjusted loss in 4Q12, Diamondback Energy's (FANG) net income followed an increasing trend until 4Q14. Net income has considerably fallen since.
In 2Q15, Diamondback Energy recorded a $212 million adjusted net loss. This includes a $323 million pre-tax non-cash impairment charge. A sharp drop in energy prices led to the oil and gas property impairment in 2Q15. The 2Q15 adjusted net income also includes a $116.7 million income tax benefit.
Article continues below advertisement
In 1Q15, net income had dipped 94% from the 4Q14 level. Diamondback Energy's 4Q14 adjusted net income of $99 million was the highest it recorded since it went public in 2012. Earlier, in 4Q12, Diamondback Energy recorded a $52 million net adjusted loss due to a $60 million deferred income tax following the merger of Diamondback Energy LLC with Diamondback Energy (FANG).
In comparison, Parsley Energy's (PE) adjusted net income decreased 51% in 2Q15 over 2Q14, while Concho Resources (CXO) saw a $120 million adjusted net loss compared to a $11.7 million adjusted net income in 2Q14. Laredo Petroleum (LPI) deteriorated further to a $397 million adjusted net loss in 2Q15 from an $18.9 million net loss in 2Q14. Diamondback Energy makes up 1.4% of the SPDR S&P Oil & Gas Exploration & Production ETF (XOP).
Diamondback Energy's net income drivers
On the cost side, Diamondback Energy's lease and well operating expense (or LOE) increased 16% in 2Q15 over 2Q14 on a per barrel of oil equivalent (or Boe) basis due to increased drilling activity and acquisitions. In 2Q15, the company added 345 producing wells. Depreciation, depletion, and amortization cost per Boe, FANG's largest cost, decreased 15% in 2Q15 over 2Q14. Production and ad valorem taxes also decreased 47% on a per Boe basis. The lower cost reflects the effect of lower prices for oil and natural gas on production taxes. General and administrative (or G&A) expense per Boe increased 16.5% in 2Q15 over 2Q14.
Diamondback Energy's 2015 cost guidance
In 2015, Diamondback Energy expects LOE per Boe to increase to the range of $7.00 to $8.00. Cash G&A is also expected to decrease to the range of $1.00 to $2.00 per Boe.
Next, we will discuss where Diamondback Energy stands in terms of historical multiples.