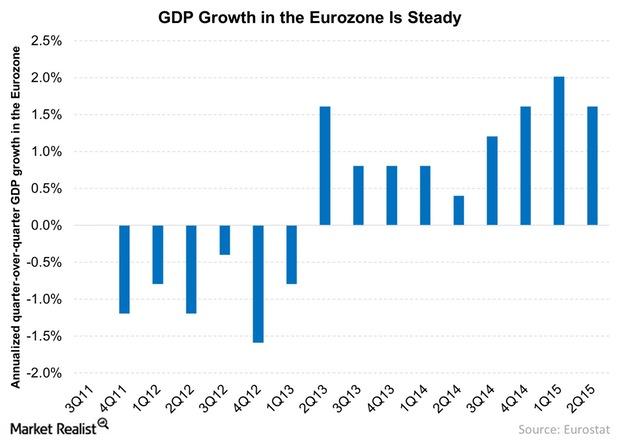 Developed Markets Offer Value after the Rout
Market Segments to Consider
1. Stocks in international developed markets, particularly in Europe
European stocks remain attractively priced and the eurozone economy is improving, as demonstrated by data accessible via Bloomberg. Last week, such data revealed that euro-area unemployment fell to the lowest level in three years. In addition, given stubbornly low inflation and investor concerns over global growth, there's also the prospect for an extension of Europe's current quantitative easing program, as many in the media speculated last week.
Article continues below advertisement
Market Realist – Developed markets offer value.
The graph above shows the annualized quarter-over-quarter GDP (gross domestic product) growth rate in the Eurozone. As you can see, the Eurozone has come out of the recession and is seeing some green shoots of growth. The estimate for growth in 2Q15 was revised upwards from 0.3% to 0.4%, or 1.6% if annualized.
The weaker euro, lower crude oil (USO) prices, and lower borrowing costs have all helped the European economy get out of the rut. Also, the situation in Greece doesn't seem to have led to a contagion, but it's too soon to call.
European stocks (EZU)(IEV) seem reasonably priced. The MSCI Europe Index is trading at 16.9x earnings as of September 8, compared to its ten-year average of 17.9x earnings.
Also, the QE (quantitative easing) program will act as a catalyst for European and Japanese stocks (EWJ) beyond 2015. The Fed's QE program was the biggest catalyst and sustainer of the bull market in US stocks (IVV). The S&P 500 has seen multiple expansion since 2011.
The unemployment rate in Europe recently reached its three-and-a-half-year low of 10.9%. Also, Germany-Europe's biggest economy saw its trade surplus hit another record high in July. Germany's unemployment rate is at a 34-year low. Europe remains an interesting investment avenue.