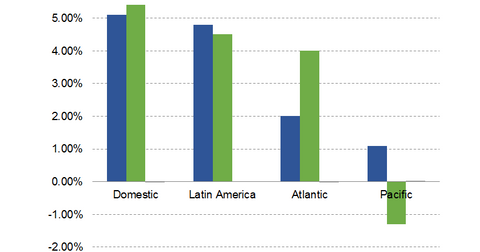 Delta Air Lines Reports Mixed Traffic Results in August
By Santiago Solari

Updated
Delta sees growth in key indicators
Delta Air Lines' traffic report for August saw growth in key indicators such as revenue passenger miles (or RPM) and available seat miles (or ASM). However, weakness in its PRASM (passenger revenue per available seat miles), load factor, and cargo ton miles counterbalanced these gains.

Article continues below advertisement
Capacity outpaces traffic growth
Delta Air Lines' RPM for August grew by 3.9% year-over-year, primarily driven by a 5.1% year-over-year rise in domestic markets. This growth was somewhat offset by slower growth from international markets.
Delta also witnessed a 4.2% growth in its ASM, driven by its growth in domestic markets. Load factor fell by 30 basis points to 87.3% as capacity growth outpaced the growth in traffic.
Delta Air Lines' PRASM for June decreased 4.5% year-over-year, primarily driven by foreign exchange pressure and lower surcharges in international markets.
Adding to its woes, DAL's domestic yields also declined. The continuous fall in PRASM has resulted in the company trimming its guidance for the next quarter. The company has announced that its PRASM will fall by 4.5%–6.5% in the coming quarter.
Delta Air Lines (DAL) grew its capacity in the first half of the year, but it plans to keep its capacity constant for the coming few months. DAL took this step to bring about better utilization of capacity, match demand with supply, and improve its PRASM for the coming year.
Delta Air Lines' PRASM fell less than its major competitors, American Airlines (AAL) and United Continental (UAL). AAL expects its PRASM to fall by 6%–8% and UAL expects its PRASM to decline by 5.25%–5.75% in 2Q15. JetBlue Airways (JBLU) was the only airline that did not report a decline in its PRASM.
These airlines are a part of the iShares Transportation Average ETF (IYT), which holds ~17% in airline stocks.
Oil prices remain favorable
The decline in oil prices has forced oil companies to rethink their hedging strategies. It has also put pressure on airline ticket prices. However, this also gives airlines the opportunity to add new affordable flights and expand their network.
The average price per gallon of jet fuel has fallen to $2.40 so far in 2Q15, compared to its 1Q15 price of $2.93. A $1 movement either way in oil prices could result in an increase or decrease in fuel prices by $100 million for an airline operator like Delta Air Lines.
Delta Air Lines expects its situation to ease by 1Q15, when it can reap the benefits of declining oil prices, fleet restructuring, and cost-saving initiatives.