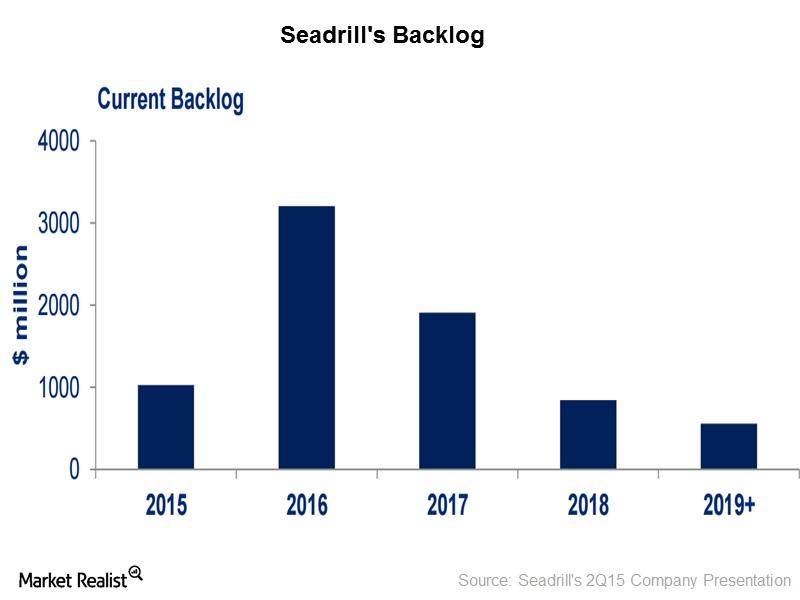 A Deeper Look into Seadrill's Backlog
By Sue Goodridge

Sep. 21 2015, Published 12:52 p.m. ET
Backlog
Seadrill (SDRL) has a backlog of $7.54 billion on its record, far less compared to $13.6 billion in the same period last year. The backlog stood at $8.9 billion at the end of 1Q15. A company's backlog often indicates where future revenues of the company might be. It also tells us about a company's exposure to spot and time-charter markets.
Article continues below advertisement
Backlog details
The total backlog for Seadrill's floater segment is $6.02 billion, which is 184% of the company's total floater revenue for the past four quarters. The backlog for Seadrill's jack-up segment is $1.52 billion, which is just 99% of the company's total jack-up revenue for the past four quarters.
The company has approximately $1 billion in backlog for the remaining half of the year, which is just 50% of the first half year of revenue for 2015.
Contracts
The average contract duration is 26 months for floaters and 15 months for jack-ups.
Seadrill signed a provisional commitment for a two-year extension with Pemex for the West Pegasus semi-submersible. Along with this, the company secured an extension of work until August 2016 for the West Phoenix semi-submersible.
It also secured an 18-month extension for the West Ariel jack-up. The company could extend these contracts in return for reduction in day rates. This has been a common scenario recently in the offshore drilling industry (OIH) (IYE).
The company stated that with these negotiations it could achieve an increase in backlog of around $300 million.
Though the offshore drilling industry is facing serious challenges among many offshore basins, Africa and the Middle East are still quite robust markets.
The company has many contracts in Saudi Arabia and Norway. These contracts have not been terminated or negotiated and have comparatively higher day rates.
Comparing backlog with peers
Seadrill's total revenue backlog was 151% of its 2014 revenue.
For peer comparison, we have calculated the ratio as total backlog divided by total 2014 revenue of the company.
Atwood Oceanics (ATW) has one of the highest ratios at 593%, followed by Noble Corporation (NE) and Diamond Offshore (DO) having ratios 276% and 211%, respectively.