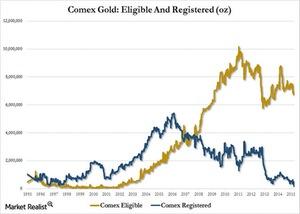 Declining Inventories in the COMEX Warehouses
By Meera Shawn

Sep. 23 2015, Published 4:45 a.m. ET
Falling inventories
Gold inventories for COMEX, a commodity division of the NYMEX (New York Merchantile Exchange), have fallen to their lowest levels since October 2013. Gold futures on COMEX were trading at  $1,119 an ounce on September 16, 2015. Platinum and palladium were trading at $975 and $611 an ounce, respectively. Gold and silver ETFs such as the iShares Gold Trust (IAU) and iShares Silver Trust (SLV) also rose on September 16.
Article continues below advertisement
Eligible and registered
While we have seen gold open interest on the COMEX decline over the past year, interest remains considerably high compared to that of deliverable gold. Gold inventories with the exchanges consist of two categories: eligible and registered. The eligible class essentially refers to gold stored in the COMEX warehouse that conforms to the exchange standards. However, it is unavailable for contract delivery. Like eligible gold, registered gold meets exchange standards but is also available for delivery to the paper gold bearer.
Declining J.P. Morgan vault holdings
The J.P. Morgan vault, a COMEX gold warehouse, saw its registered gold plunge close to 45% as of September 16, 2015. The reduction is mainly due to the conversion of registered gold to the eligible category, leaving the registered gold figure at 10,777 ounces on the J.P. Morgan vault. This amounts to about 27 bricks of deliverable gold, or 335 kilograms.
The overall COMEX warehouse registered gold figures also plunged. A total of 157,000 ounces were withdrawn, and the conversion of registered to eligible gold resulted in a decline of 10%. The registered gold figure on COMEX also stood at a minuscule 163,334 ounces.
The decline led to a record of ~252 paper gold claims on a single ounce of physically deliverable gold. This led to a record high since the year 2000 in the gold coverage ratio. The ratio of gold open futures interest on the exchanges to the gold inventories with the same exchange gives us the gold coverage ratio.
Mining stocks such as Goldcorp (GG), Hecla Mining (HL), and Royal Gold (RGLD) also had positive returns as of September 16. These three stocks together make up 13.3% of the VanEck Vectors Gold Miners ETF (GDX).