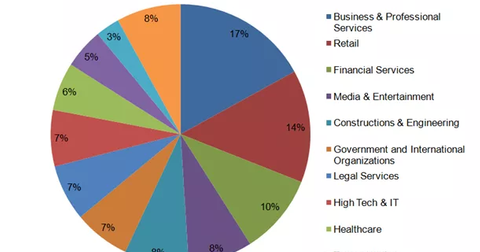 Cybersecurity, One of the Fastest Growing Technology Segments
By Adam Rogers

Updated
Overview of the cybersecurity space
As the number of cyberattacks on companies rises, companies that conduct their businesses digitally will increase their spending on digital security.
McAfee, a leading cybersecurity company, said, "Cyber espionage attacks will continue to increase in frequency." The increase over the next few years will be due to substantial growth in the number of connected objects used. According to Gartner, a research firm, spending on cybersecurity will increase globally from $71.1 billion in 2014 to $76.9 billion in 2015.
As a result, the cybersecurity space is considered one of the fastest growing segments in the technology space.
Article continues below advertisement
FireEye might acquire CyberArk
Recently, it was reported that FireEye (FEYE) is a major contender to acquire CyberArk Software (CYBR) in order to diversify its portfolio in the cybersecurity space. FireEye is one of the fastest growing cybersecurity companies over the last two years. In 2014, it spent approximately $1 billion to acquire forensic security group Mandiant, which provides companies with an option to initiate security protocols once they have been victims of cyberattacks.
CyberArk has a market capitalization of $2 billion, which helps manage network access privileges. The Acquisition of CYBR will benefit FireEye, as it will be an important component of the company's sales strategy. Another cybersecurity company, Centrify, provides services in the identity management security space. It's also a good acquisition target, according to analysts.
FireEye comprises 0.02% of the iShares Russell 1000 Growth ETF (IWF) and 0.08% of the iShares Russell Mid-Cap ETF (IWR). In the next article, we'll focus on the potential acquisitions of IBM (IBM) and Symantec (SYMC) in this segment.