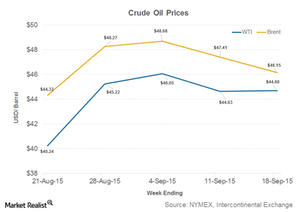 Crude Oil Prices Diverge: What Does It Mean for Coal?
By Mike Sonnenberg

Updated
Crude oil prices
After falling during the previous week, WTI (West Texas Intermediate) crude oil prices increased marginally during the week ending September 18. WTI closed at $44.68 per barrel during the week ended September 18, up $0.05 from the previous week's close. Falling imports and a subsequent drop in crude oil inventory in the US led to the marginal rise.
On the other hand, Brent crude oil prices fell $1.26 per barrel to $46.15 per barrel on September 18, narrowing the spread between WTI and Brent.
Article continues below advertisement
Why are crude oil prices important for coal producers?
While coal and crude oil don't directly compete with each other as fuels, it's important for coal investors to track crude oil prices. Coal producers (KOL) such as Alliance Resource Partners (ARLP), Arch Coal (ACI), Peabody Energy (BTU), and Cloud Peak Energy (CLD) are affected in various ways by crude oil prices.
Crude oil prices are a mixed driver for the coal industry (KOL) in the United States. On the one hand, a fall in crude oil prices results in a fall in fuel costs. A drop in crude oil prices may encourage US crude oil producers to curtail production. If crude oil production drops, availability of rail infrastructure for transportation of coal improves.
On the other hand, energy stocks, including coal stocks, generally follow crude oil prices. A rise in crude oil prices means improved investor perception of the energy sector, including coal.
For utilities (XLU), the impact of oil prices isn't significant, as oil isn't a major fuel that powers electricity generation throughout the United States.