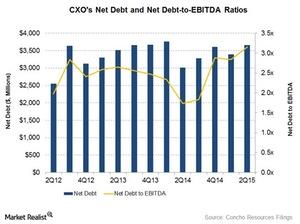 Concho Resources' Debt Has Stayed Range-Bound: A Good Sign
By Alex Chamberlin

Updated
Concho Resources' debt
We discussed in the earlier part that Concho Resources' (CXO) production has increased over the past 13 quarters. Did its indebtedness also increase over the past few quarters?
Concho Resources' net debt has been steady over the past 13 quarters. In 2Q15, CXO's net debt (or total debt less cash and cash equivalents) increased 7.9% from 1Q15 to ~$3.66 billion, due primarily to the long-term debt increase. In comparison, Whiting Petroleum (WLL) saw a 1.1% increase in 2Q15 net debt over 1Q15. Laredo Petroleum's (LPI) net debt increased 7% from 1Q15 to 2Q15. Concho Resources makes up 0.95% of the Vanguard Energy ETF (VDE) and 0.89% of the iShares North American Natural Resources ETF (IGE).
Article continues below advertisement
Concho Resources' indebtedness
Concho Resources' net debt to EBITDA ratio increased to 3.1x compared to 2.8x in 1Q15. The ratio, starting from 2Q12, initially fell until 2Q14 to 1.7x, and then kept rising. In 2014, the ratio decreased as CXO utilized a portion of its proceeds from equity issuance in repaying debt. In 2015, higher capex led to higher borrowings. CXO's long-term debt by the end of 2Q15 stood at $3.58 billion, while its cash and marketable securities were negligible.
Net debt-to-EBITDA ratio indicates a company's indebtedness. It shows how many years it would take to repay its debt, if net debt and EBITDA remain unchanged. Compared to 1Q15, CXO's EBITDA increased 11% in 2Q15 due to increased production, as discussed in the previous part. Compared to a year ago, EBITDA fell only 7%. Despite a 44% fall in its average realized price per barrel of oil equivalent (or Boe), the company improved its drilling cost efficiency, leading to higher EBITDA.
Concho Resources' leverage
Concho Resources' debt-to-equity, or leverage, was 61.7% in 2Q15, down from 70.1% a year ago. In March this year, CXO raised $741 million through a common equity offering to repay long-term debt. A higher debt to equity ratio typically indicates higher risk, as it shows the company has been aggressively financing its growth through debt.
Next, we will discuss Concho Resources' capex plans and cash flow trends.