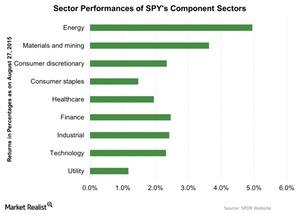 Component Sectors of SPY Continued Their Upward Trend
The component sectors of SPY that ended in green
William Dudley's statement that a rate hike in September is "less compelling," could be instrumental in keeping the markets positive. William Dudley, the chief of the Federal Reserve Bank of New York, is a member of Federal Open Market Committee.
The energy sector rebounded on August 27. The major factor in the recovery was the rise in WTI crude oil prices, which had been positively affecting the sector since August 25. The graph below shows the component sector performance of SPY on August 27.
Article continues below advertisement
Certain companies involved in oil and gas drilling and exploration and production returned more than 10% on August 27. QEP Resources (QEP), Nabors Industries (NBR), Chesapeake Energy (CHK), Noble (NE), and Transocean (RIG) returned 12.54%, 12.19%, 10.73%, 12.13%, and 11.47%, respectively, on August 27.
Netflix (NFLX) continued its uptrend with a 6.84% gain. AVAGO Technologies (AVGO) led the technology sector with a 8.66% return on August 27.
What cues are affecting the US stock market?
We have seen how global events like the oil price slump, the fall of the Chinese stock market, the yuan's devaluation, and the sell-off in China added to the woes of the US stock market. The past week saw one of the worst market performances in the US since the 2008 recession. Despite strong economic indicators, the US markets reacted to speculation and fear. Some analysts look at the market crash as a market correction. The markets were said to have reached unsustainable highs owing to ultra-low interest rates in the US and thus the fall in the stock market seemed inevitable.
The small intermittent rises and falls in stock prices on August 27 were in part a response to a revision in ratings following earnings releases.
On the other hand, the Chinese government also took some corrective measures:
The government made borrowing funds cheaper for the public through currency devaluation and cuts in lending and deposit rates.
New company listings were suspended on the Chinese stock market, which was the epicenter of the stock market turmoil.
The government funded brokerages to buy stocks, and company executives were prevented from selling their shares.
All the above events and the measures taken by the Chinese government have offered some respite to the country and the global stock markets over the past week. Presently, the market depicts a rebound, but investors need to be patient to see whether the trend will continue.
For more market updates, visit our series on Crude Oil Market: Will the Shift in Direction Last?