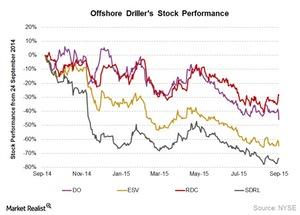 Comparative Analysis: Offshore Companies' Stock Performance
By Sue Goodridge

Updated
Offshore industry
Brent crude oil prices fell to $46.53 per barrel on September 14, 2015, from $54.15 on August 31. The offshore drilling (OIH) industry is highly influenced by oil prices, which affect the drilling rates exploration and production firms are willing to pay for drilling services. With oil prices plunging, it is important to explore how offshore drilling companies might perform in the coming quarter and which companies are positioned to outperform the others.
Article continues below advertisement
Companies for comparison
Seadrill: Seadrill is incorporated in Bermuda and operated from London. The company operates one of the youngest fleets of 69 rigs, comprising drillships, jack-ups, semisubmersibles, and tender rigs.
Rowan Companies (RDC): The company focuses on high-specification and premium jack-up drilling rigs and high specification ultra-deepwater drillships. It owns and operates a fleet of 32 offshore drilling units—28 jack-ups and four ultra-deepwater drillships.
Diamond Offshore (DO): The Texas company owns 35 rigs—eight ultra-deepwater semisubmersibles, seven deepwater semisubmersibles, nine mid-water semisubmersibles, five ultra-deepwater drillships, and six jack-ups.
Ensco (ESV): The company headquartered in London operates a total fleet of 70 rigs—28 floaters and 42 jack-ups. It also provides services for rigs owned by third parties.
What we will learn
Why did some offshore drillers outperform industry peers? In this comparative series, we'll try to answer that question by comparing the key differences between the four companies mentioned above. The offshore drilling industry is highly competitive and dynamic. The companies' strategies evolve in response to changing market demand and competitor activity. In this series, we hope to help investors better understand offshore drilling stocks and assess which companies may outperform and underperform in the future.