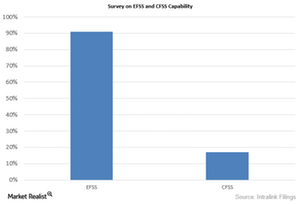 Companies Are Paying Attention to Intralink's Survey on EFSS
By Parker Thomas

Sep. 19 2015, Published 4:44 p.m. ET
EFSS mitigates risk to a large extent
Over the past few years, workplaces have seen the need for a flawless flow of data across departments. At the same time, they are focusing on the importance of data security while they pass that information and share files among departments.
Companies like Dropbox, Microsoft (MSFT), Google (GOOG), and Apple (AAPL) are providing CFSS (consumer-focused file sync and share) solutions. They've become vibrant tools that allow users to automatically synchronize files across various devices such as desktop computers, laptops, smartphones, and tablets. But their significance increases corporate compliance risk and legal costs, and puts the substantial proportion of the data outside the reach of the company.
To mitigate this risk and gain cost efficiency, companies have started deploying EFSS (enterprise-grade file sync and sharing) solutions to replace CFSS systems. EFSS provides the option for cloud storage, on-premises storage, and a combination of both.
Article continues below advertisement
EFSS is comparatively cheaper given the risk involved
EFSS solutions are a bit expensive compared to their alternatives, but they're dramatically less expensive compared to the amount of risk involved. For example, 2,500 users increased their risk of a $5 million data breach using CFSS tools compared to 5% who used EFSS tools.
Role-based sharing plays a significant role in granting access to the authorized user while sharing files across departments. More than 90% of those surveyed said EFSS is more capable of incorporating role-based sharing controls.
About 94% agreed that data should be fully encrypted between endpoints while using EFSS, and more than 59% believe that was true for CFSS. Considering the importance of bandwidth and connectivity for remote offices, 95% of organizations agreed EFSS has more capability, whereas 41% said it was CFSS.
Intralink makes up 0.02% of the iShares Russell 2000 ETF (IWM) and 0.02% of the iShares Russell 2000 Growth ETF (IWO).