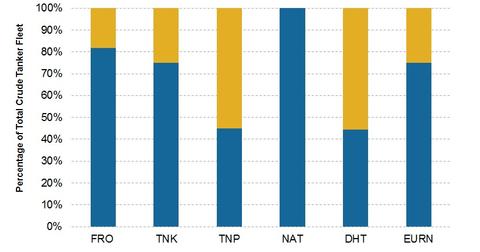 How Do the Tanker Companies' Spot Exposures Compare?
By Sue Goodridge

Sep. 30 2015, Published 5:47 p.m. ET
Difference between spot charter and time charter
In the crude tanker business, there are two markets: the spot market and the time charter market. Spot contracts are for a short duration, or a voyage from one port to another. In this type of contract, the shipping companies charge a spot rate to their customers to transport crude oil. These spot rates include the bunker fuel cost, which depends on crude oil (DBO) prices. Under time charter contracts, vessels are hired for a specific period that can last up to five to six years at a pre-decided daily rate. Or rates can be pegged to the spot rates or an index.
Article continues below advertisement
Companies have high spot exposure
For the past three years, Nordic American Tanker (NAT) has operated its fleet only in the spot market. This strategy works well in a rising rates environment, but it can also backfire in a weak market and lead to relative underperformance.
Though Frontline (FRO) and Euronav (EURN) have a higher number of tankers in the spot market, the companies are slowly shifting their focus to time charter contracts. Since the second quarter, which saw more attractive time charter rates, traders are chartering tonnage for longer duration. Investors can read more about Frontline's thoughts about the time charter market.
Frontline (FRO) doesn't provide a detailed breakdown of its spot market and fixed market vessels on a quarterly basis. At the start of the year, the company had 82% of its vessels in the spot market. However, the company has stated that it had slightly more vessels operating in the fixed market in 2Q15 than in 1Q15. Euronav currently has 75% of its fleet in the spot market compared to 82% at the start of the year. Teekay Tankers (TNK) operates 75% of its vessels in spot markets.
High fixed-rate exposure
DHT Holdings (DHT) and Tsakos Energy Navigation (TNP) operate more vessels under time charter contracts than in spot market. These companies have only 44% and 45%, respectively, of their vessels in the spot market.
Nordic American Tanker, Euronav, Frontline, and Teekay Tankers have high exposure to the spot market, so they will generally benefit more when rates rise. A larger exposure to the spot market means higher risk, as spot rates can be volatile. If tanker rates plunge, these companies will be more negatively affected. Time charter contracts have very predictable cash flows as compared to spot markets.