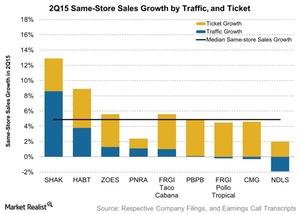 Comp: Why Some Fast Casual Restaurants Saw Higher Traffic Growth
By Adam Jones

Updated
Same-store sales growth
Same-store sales growth is an important metric for investors to monitor because it affects a restaurant's revenue, earnings, and share price over time. High same-store sales growth also suggests that a restaurant's value proposition is attractive to customers. Unlike increasing units, which requires capital investments, growing same-store sales is a less expensive way to grow earnings. The median same-store sales growth (or traffic plus ticket) of the eight fast casual restaurants during 2Q15 was 4.9%.
Article continues below advertisement
Traffic struggles
Shake Shack (SHAK) had the highest same-store sales growth during the quarter compared to the above peers. The company attributed this growth to publicity surrounding its IPO (or initial public offering) and product innovations. Shake Shack primarily operates in densely populated Manhattan, which enables the company to serve a wide audience. However, as the company opens newer locations outside Manhattan, overall same-store sales may fall, which explains why the management guided mid to high single-digit same-store sales growth.
Habit (HABT) won a "Best Tasting Burger in America" award, which may have led to an increase in traffic. But this was in 2014, and as the effect of this publicity fades away, traffic growth may decline and impact its same-store sales growth.
Noodles (NDLS) and Chipotle (CMG) had the worst traffic growth during the quarter. Chipotle's traffic suffered as a result of a shortage in its pork offering, while Noodles continued its trailing four-quarter negative traffic trend. Chipotle's pork shortage is anticipated to reverse with a new pork supplier in place, while Noodles also announced a slew of initiatives during the quarter that may reverse its anemic traffic growth.
The Consumer Discretionary Select Sector SPDR (XLY) holds 1% of Chipotle and 1.5% of Yum! Brands (YUM) as a percentage of its total portfolio.
Ticket increases
Most of the restaurants' same-store sales growth was boosted by ticket growth. Ticket, which is made up of price and mix, was primarily lifted due to an increase in menu prices.
Almost all restaurants saw a rise in menu prices during the quarter. Beef and egg prices remained elevated. This along with wage inflation pressures led to menu price increases. Commodity inflation expectations remain elevated for the rest of the year, which may call for an additional increase in menu prices.
Looking at the chart, Panera (PNRA) could potentially increase its prices, which could drive its ticket growth in the coming quarter.
Same-store sales risks for Shake Shack and Habit continue to loom, but there may be an upside for Panera, Noodles, and Chipotle.