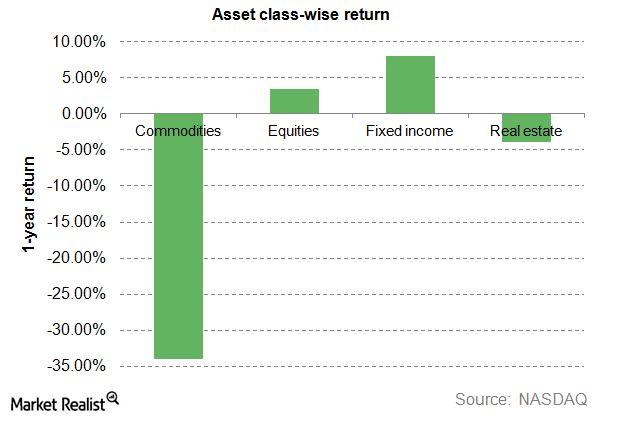 Commodities are Battered among the Asset Classes
By Vineet Kulkarni

Nov. 20 2020, Updated 1:46 p.m. ET
Commodities took a severe beating in the last year
Commodities, one of the most important asset classes, have received a beating since 2014, largely due to global oversupply. This downtrend is seen in all the commodity sectors, including energy, industrial metals, precious metals, and agriculture. Commodity mutual funds have also followed this trend.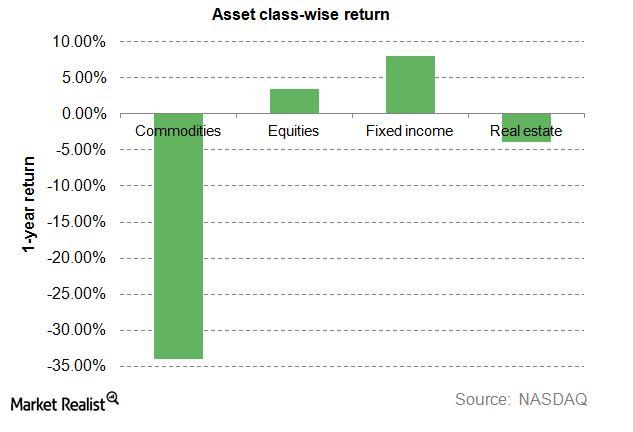 The above chart illustrates the one-year return of various asset classes. The chart includes the one-year price movement of the Bloomberg Commodity Total Return Index (BCOMTR), the S&P 500, the Barclays 20+ Year Treasury Bond ETF (TLT), and the Vanguard Real Estate Investment Trust ETF (VNQ). BCOMTR fell by 29% last year.
Article continues below advertisement
Commodity mutual funds: Diversification and risk
Commodities movement historically does not correlate with any other asset class like equities or bonds. They generally have a positive correlation with inflation. Hence, they are considered to be an attractive investment option from a diversification point of view. But investing in commodities involves higher risk compared to equities or bonds. So, exposure to commodities using mutual funds reduces the risk.
However, commodity mutual funds do not completely eliminate the risk. Rather, these are considered to be high-risk mutual fund instruments.
Many commodity-focused funds take exposure using commodity derivatives and commodity-oriented equities. They also have fixed income securities in their holdings as they add a low-risk, moderate-return element to the portfolio. We will focus particularly on the following mutual funds in this series.
ALPS CoreCommodity Management CompleteCommodities Strategy Fund (JCRAX)
BlackRock Commodities Strategies Investor Fund (BCSAX)
PIMCO CommodityRealReturn Strategy Fund (PCRAX)
Oppenheimer Commodity Strategy Total Return Fund (QRAAX)
Sluggish economic growth
The global economy is suffering from a slowdown that has impacted nearly all asset classes. Considering the large cap equities in the United States, integrated oil giants like ExxonMobil (XOM) and Chevron Corporation (CVX) saw -35% returns last year. XOM and CVX constitute 2.3% of the holdings of BCSAX.
Johnson and Johnson (JNJ) also underperformed, giving -8% returns. Technology behemoth Apple (AAPL) returned 12% in the same period. The SPDR S&P 500 ETF (SPY), a US large cap equity, gave 3.37% returns.
Despite this slowing economic growth, some fund managers are optimistic about the overall scenario. We should see some optimism in the commodity mutual funds' performance if these commodities have indeed bottomed out and find an upward track.
Let's look at these mutual funds in more detail in the coming parts of this series.