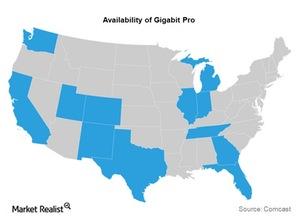 Comcast Adopts Gigabit Pro, DOCSIS 3.1 to Boost Internet Speeds
By Ray Sheffer

Updated
Comcast on DOCSIS 3.1
In the last part of this series, we learned about Verizon's (VZ) NG-PON2 (next-generation passive optical network) field test. We also learned that the maximum speed offered by FiOS is much lower than the maximum speed offered by AT&T's (T) GigaPower and Comcast's (CMCSA) Gigabit Pro.
Recently, Comcast has been deploying its high-speed Gigabit Pro service. It has also been testing another high-speed Internet technology, DOCSIS 3.1, with estimated speeds of 1 Gbps (gigabits per second). Comcast's planned deployment of this technology has been slated for early 2016.
Recently, Robert Howald, Comcast's vice president of Network Architecture, spoke about DOCSIS 3.1 with Fierce Cable.
According to a report by Fierce Cable, Howard said of DOCSIS 3.1, "We want to get it across the footprint very quickly." Howard also gave a new estimate for DOCSIS 3.1's deployment, saying, "We're shooting for two years."
Article continues below advertisement
This deployment should significantly boost the positioning of Comcast in the US broadband space. At~22.5 million in 2Q15, Comcast had the largest US high-speed Internet subscriber base. AT&T (T), with the largest US wireline telecom operations, boasted ~16 million broadband connections at the end of the quarter.
Comcast's Gigabit Pro
Comcast has already deployed an Internet product with even higher speeds in select areas. Its Gigabit Pro service offers speeds of a maximum of 2 Gbps. This service is available in certain areas of Atlanta, Chicago, Houston, and Miami, among other places. Comcast expects its Gigabit Pro service to reach 18 million households by the end of 2015.
Instead of taking a direct exposure to Comcast's stock, you may consider taking a diversified exposure to the company by investing in the PowerShares QQQ ETF (QQQ) or the SPDR S&P 500 ETF (SPY).
Comcast made up ~2.9% of QQQ as of August 31, 2015. The company accounted for ~0.8% of SPY's holdings as of the same date.