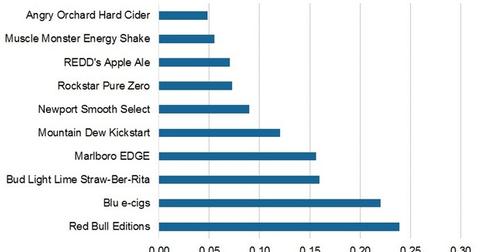 A Closer Look at the Altria Group's Brand Stable
By Penny Morgan

Updated
Brand overview
The brand portfolio of Altria Group (MO) tobacco products includes Marlboro, Copenhagen, Skoal, Black & Mild, and MarkTen. Additionally, the company sells premium wines under brands like Chateau Ste. Michelle, Columbia Crest, 14 Hands, and Stag's Leap Wine Cellars.
Article continues below advertisement
Cigarettes and cigar popular brands
Marlboro's cigarette retail share increased to 43.8% in 2014, compared to 43.7% in 2014. According to IRI (cited in Statista), Marlboro Edge ranks among the top ten leading convenience store products in the US in 2014. It clocked sales of $0.16 billion in 2014. Other top-ranking products included Blue eCigs, Anheuser Busch's (BUD) Bud Light Lime Straw-Ber-Rita, PepsiCo's (PEP) Mountain Dew Kickstart, and Reynolds American's (RAI) Newport Smooth Select.
Altria's shipment volume for it famous cigar, Black & Mild, increased by 6.1% in 2014, driven by Black & Mild Jazz. However, the retail (XRT) share of machine-made cigars decreased to 28.6% in 2014, compared to 28.9% in 2013.
Prominent smokeless tobacco brands
Among Altria's smokeless tobacco products are the billion-dollar brands Copenhagen and Skoal. Copenhagen's and Skoal's combined retail share increased 0.5 share points to 51.2% in 2014. Copenhagen's retail share increased 1.5 share points to 30.8% in 2014, while Skoal's retail share declined in 1.0 share point to 20.4%.
Since 1822, Copenhagen has been providing adults with moist smokeless tobacco, or dip. Among its smokeable and smokeless tobacco products, Altria's MarkTen is an innovative e-vapor product.
Article continues below advertisement
Well-known wine brands
Apart from selling its premium brands, Altria's Ste. Michelle wines segment imports and markets Villa Maria Estate wines, Champagne Nicolas Feuillatte, Antinori, and Torres in the US. Premium brand Chateau Ste. Michelle's shipment volume increased by 10.2% in 2014, compared to 2013.
Building brand equity
With regard to the economy, Altria plans to continuously monitor key indicators in order to understand adult smoking trends. This attention is aimed at helping product development and brand equity building.
Altria (MO) and Reyolds American (RAI) have exposure in the iShares S&P Growth ETF (IVW), with 1.1% and 0.2%, respectively, of the total weight of the portfolio as of August 31, 2015.
In the next part of this series, we'll look at Altria Group's initiatives to improve its distribution channels.