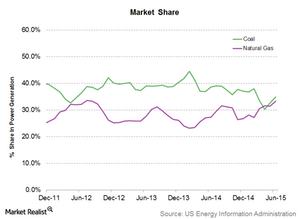 Clean Power Plan: Is It the Final Act for Coal?
By Mike Sonnenberg

Oct. 6 2015, Updated 1:38 p.m. ET
The biggest casualty
Even before the first draft of the CPP (Clean Power Plan) was published in June 2014, US thermal coal was battling adversities. The MATS (Mercury and Air Toxic Standards) and a rise in the natural gas production played their part in reducing the reliance on coal for electricity generation in the US. While MATS and the shale gas boom mainly impacted Appalachian production, the final draft of the CPP also targets sub-bituminous coal.
Article continues below advertisement
The final draft
As we discussed earlier in this series, the final draft of the CPP was released on August 3, 2015. It marks a big move away from coal. According to the first building block of the final draft, discussed in Part 2, coal-fired power plants are expected to improve the heat rates and cause less pollution. The second building block says that existing natural gas-fired power plants should run at higher capacity factors to fill the gap created by the retirement of coal-fired power plants. The third building block takes the war against fossil fuels to the next level by encouraging the development of new renewable energy (TAN) capacities.
What the CPP means for coal
Being the reliable and cheap fuel that it is, coal is here to stay for a few more decades. However, coal may command a substantially lower market share in electricity generation in the future—compared to over 50% in the early 2000s. Some new technologies like CCS (carbon capture and sequestration) are trying to make coal cleaner and relevant again. This is the last hope for coal producers (KOL) like Peabody Energy (BTU), Arch Coal (ACI), Cloud Peak Energy (CLD), and CONSOL Energy (CNX). However, CCS is expensive. Unless the cost reduces substantially, it probably won't change the scene much.