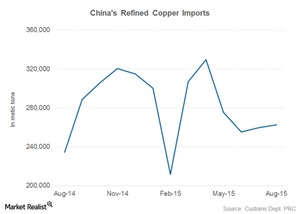 Chinese Refined Copper Imports Are Flat in August
Chinese refined copper imports
Previously in this series, we have explored the trend in Chinese copper demand. In this part, we'll see how copper supply is shaping up in China. China is not self-sufficient in copper, and Latin America (ILF) holds the bulk of global copper reserves.
China accounts for ~45% of global copper consumption while it has only 4% of global copper reserves. It has to import copper to fulfill its domestic demand.
Mining giants like Rio Tinto (RIO), Vale S.A. (VALE), and BHP Billiton (BHP) are among the major suppliers to China. Together, RIO and BHP form ~7% of the SPDR S&P Global Natural Resources ETF (GNR).
Article continues below advertisement
Refined copper imports flat
China's refined copper were flat in August as compared to the previous month, as can be seen in the graph above. However, imports were up 12% year-over-year.
Nonetheless, in the first eight months of 2015, China's refined copper imports are down 6.7% as compared to the corresponding period last year. China's domestic refined copper production also fell 2.5% YoY in August.
Bonded stocks fall
Bonded stocks are copper stocks held in free-trade zones in China. These stocks are outside the official copper inventory with the Shanghai Futures Exchange. Much of the metal in these bonded warehouses are tied in copper carry trades. According to Bloomberg estimates, Chinese bonded copper stocks as of August 31 were 540,000 metric tons—a decline of 110,000 tons over the previous month. This is the biggest monthly fall in bonded copper stocks in almost two years.
According to a Reuters report, quoting Peng Sanhao, an analyst at Chaos Ternary Futures, "The arbitrage ratios were good in August. But importers bought bonded stocks mostly and that trimmed the impact on fresh overseas orders." The arbitrage referenced here is the price differential between copper prices on the London Metals Exchange and Shanghai Futures Exchange.
The report also finds that China's refined copper imports could pick up in September "as the supply of bonded copper stocks was drying out."
Any increase in Chinese copper imports would be positive for the copper industry. In the next part, we'll explore how the copper supply is playing out globally.